One of the most important titles in video game history.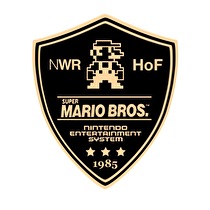 Title: Super Mario Bros.
Platform: NES
Year: 1985
Final Vote Percentage: 88.89%
The sheer simplicity of Super Mario Bros. is probably its most enduring ideal, and perhaps why it deserves to be in any video game hall of fame. Selling over 40 million copies, a record that wouldn't be broken for years, Super Mario Bros. is one of the most popular video games of all time. And it took the Nintendo Entertainment System, in an era where home video game consoles were all but dead in North America thanks to the collapse of Atari, into unparalleled heights, rejuvenating the home console market, and putting Nintendo on the map as one of the biggest forces in video game history.
Super Mario Bros. isn't known for its depth of story, but then again most Mario narratives are generic in nature which can easily be translated anywhere in the world: Mario has traveled to the Mushroom Kingdom to rescue Princess Toadstool (or Peach) from the evil clutches of Bowser. It's nothing revolutionary, but when you do the same story over and over like Nintendo has done for the past 30 years, with many other Mario titles, it's kind of hard to ignore just how easy it is to understand.
Gameplay is simple - you scroll across eight different worlds split up in four levels each filled with enemies. You can stomp on Goombas, kick around Koopa Troopa shells, and jump on Hammer Bros. and Bullet Bills in order to make it to the end where you ride down a flagpole to make it to the next goal. Jumping is a crucial part of the game as you need to time every movement just right in order to make it past big ledges and gaps throughout each level.
The music is also one of the more memorable parts of the title. Who could forget the happy tune of world 1-1, the trepidation of a cave area, the ambiance of a water level, or the drama-filled impending doom of a castle stage? The music and settings captured everything about the game and remain some of Mario's most memorable tunes of all time.
Mario had been in other games before. After all, he's also widely known for his exploits in the original Donkey Kong as well as Wrecking Crew and the original Mario Bros. But Super Mario Bros. took him from being a familiar face in arcades to a worldwide phenomenon that has yet to be stopped. Super Mario Bros. is a special game that revitalized people's interests in video games, it shaped the way people played platforming titles for years to come. There is no doubt that if we are to start a hall of fame, Super Mario Bros. should be a founding member.