The only education we'll be getting this month is how little sleep the human body needs.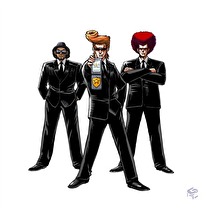 (Recommended musical accompaniment to this feature)
In June, the Wii U had its last major month of releases, with seven different games releasing during the month. What slipped a bit under the radar is that the 3DS had a busy month of its own – including the Rhythm Heaven Megamix bomb getting dropped in North America during E3, there were four retail-class releases for the system during that month.
A quarter later, the Wii U is still recovering from the flood, but the 3DS has held the charge and is ready to fire at will for the rest of the month. So sit back, crank the Earth Wind and Fire, and figure out just how to play everything coming to North American 3DSs in September.
---
Phoenix Wright Ace Attorney: Spirit of Justice
Release date: September 8 (eShop only)
Developer/Publisher: Capcom
Price: US$29.99/C$39.99
The sixth in the main series of Phoenix Wright legal dramas adds a dash of spirituality to the proceedings as Phoenix is forced to contend with a legal system that runs on séances. The sad thing is, given how previous games have gone, this is actually normal. By taking the adventure out of Ja… California, we'll get to deal with some of the trickiest cases in Wright's long legal career.
Recommended for: Visual novel fans, people who can tell the difference between a ladder and a stepladder
Not recommended for: The estate of Sir Arthur Conan Doyle
---
Noitu Love: Devolution
Release date: September 15 (eShop; also on Wii U)
Developer: Joakim Sandberg
Publisher: MP2 Games
Price: US$9.99 (10% off week of release)
Noitu Love: Devolution bills itself as a return to classic arcade action shooters, but perhaps the closest comparison to this palindromic shooter is Gunstar Heroes. With mid 90s 16-bit graphics and manic action, this one looks to be a blast – and despite heavy use of touch control, it seems lefty friendly as well. Though you may be going for the Wii U version instead on this one, given what comes out the next day.
Recommended for: Anyone who loved 3D Gunstar Heroes last year
Not recommended for: The easily frustrated
---
Dragon Quest VII: Fragments Of The Forgotten Past
Release date: September 16 (retail/eShop)
Developer: HeartBeat (original), ArtePiazza (3DS version)
Publisher: Nintendo/SquareEnix
Price: US$39.99/C$49.99
The long, LONG awaited ground-up remake (improvement) of the 2001 PlayStation title streamlines a 100 hour game that took 30 hours to unveil its job system originally, adds in a dash of 3DS features such as StreetPass and mixes together for a grand adventure that has become quite common on the 3DS this year. But you should be able to polish this off… it's not like there's another major RPG coming out within a week or anything.
Recommended for: Those who love JRPGs and light time travel
Not recommend for: Anyone who freaks out whenever a Slime approaches. (Command?)
---
Shin Megami Tensei IV: Apocalypse
Release date: September 20 (retail/eShop)
Developer/Publisher: Atlus
Price: $49.99/$64.99
Oh crap.
For those who prefer to kill gods and goddesses rather than use them to save the game, we can try to cause the Apocalypse. The follow up to SMTIV gives you added control over your party members in order to prevent stupid deaths, a new storyline that follows on from the 2013 hit, and a difficulty level that will no doubt cause many systems to fly across rooms. Might want to invest in a case when that demon takes all your money and runs.
Recommended for: Those who played Tokyo Mirage Sessions and want to untwist the acronym, masochists.
Not recommended for: Anyone who faints at the sight of Mara, the Automatic M.
---
River City: Tokyo Rumble
Release date: September 27 (retail/eShop)
Developer: Arc System Works
Publisher: Natsume
Price: $29.99/$?
So basically the last week of September is nuts. River City: Tokyo Rumble marks the first follow-up to the NES game in over two decades, although the Kunio-kun characters have appeared in multiple sports titles and River City Ransom was remade on the GBA. Expect a fun brawler with a sense of humor and plenty of callbacks.
Recommended for: Brawler fans and those who got a lot of smiles back in the day.
Not recommended for: The Internationals. (BARF!)
---
Sonic Boom: Fire and Ice
Release date: September 27 (retail/eShop)
Developer: Sanzaru
Publisher: Sega
Price: $39.99/$49.99
To say Sonic Boom games have a checkered history would insult the board game. The range of the 2014 titles was mediocre to Langrisser. But the 3DS title was the better of the two and Sanzaru is out to prove that Sly Cooper: Thieves in Time (PS3/Vita) wasn't a fluke. With improved controls, tighter levels and special stages adapted from the best Sonic game ever, they may have a shot.
Recommended for: Platformer fans who already bought the next game on the list
Not recommended for: Those who cringe whenever Knuckles says "BOUNCEPAD!"
---
Shantae and the Pirate's Curse
Release date: September 27 (retail)
Developer/Publisher: WayForward
Price: $29.99/$39.99
There's a very good chance you've picked up Shantae and the Pirate's Curse digitally already, given its appearance in this year's Humble Friends of eShop Bundle (among other cheap sales). But if you missed out, or are afraid to download anything big on the 3DS, you can grab one of 2014's most under-appreciated games in store with some nice bonuses as well (plus new content and the same great use of 3D.)
Recommended for: Anyone who missed the Humble Bundle for whatever reason.
Not recommended for: I think Zach has enough copies of this game, but the new content might get him to triple-dip (Editor's note: It will - Zach)
---
Azure Striker Gunvolt 2
Release date: September 29 (eShop: retail bundle with first game due in early October)
Developer/Publisher: Inti Creates
Price: US$14.99 (10% off launch week)
The last of the Nindie Summer Jam games to release is also a follow-up to one of 2014's most interestingly flawed titles. Now with a couple more years under their belts, more playable characters and the need to put a certain Kickstarter disaster behind them, let's all hope for more Mega Man 2 than ZX Advent and that some of the magic of their physical publisher (Yacht Club Games) rubs off on Inti Creates.
Recommended for: Mighty No. 9 backers who are looking for better than nothing (allegedly)
Not recommended for: People with R buttons on the verge of death
---
Yo-Kai Watch 2: Bony Spirits and Fleshy Souls
Release date: September 30
Developer: Level-5
Publisher: Nintendo
Price: $39.99/$49.99
Originally, there was going to be a joke here about how there was no other competition on this date for the RPG dollar, but then SquareEnix did what many... ok, I expected and delayed Final Fantasy XV. So Yo-Kai Watch stands alone. The second game appears to be the highest-selling game in the series in Japan, and represented a huge leap forward in terms of gameplay, but will Yo-Kai hang on with Sun and Moon less than two months away? Or will the Springfield to Yo-Kai Watch's Shelbyville triumph once again? Maybe Springdale should plant their own lemon tree.
Recommended for: People who quit out of the first game after two hours
Not recommended for: Haters of late-stage capitalism