Part 3 of Nintendo TVii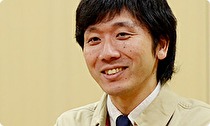 3. "Recommend Engine"
Iwata - Going with a web based approach to development meant changing the way things were made compared to everything that's come before it, isn't that right? Would you please explain what approach you used for development?
Oda - In the beginning we looked at many different development companies, but in the end due to their experience in creating TV guide services, strength in web services and proprietary development on search and their "Recommend Engine"(※10) we partnered with Team Labo(※11). We got along swimmingly right away - not only are they famous for their top planners, but they're also huge Nintendo fans.
※10 "Recommend Engine"=Engine that acquires and analyzes information to deduce and provide recommendations. In general, this refers to a system with functions for recommending products or pages to webpage viewers, in this instance that concept has been brought to TV programs.
※11 Team Labo=Team Labo, Inc. Handles an array of services focused on internet software development. Established in 2000 and based in Tokyo.
Kamigawa - Back then we had members within the company pushing for Team Labo, and so we ended up asking Team Labo to handle the web development portion of Nintendo TVii. Nintendo handled development of the client program on the Wii U as well as directing the specs of the web side of the service, and Team Labo handled the server development and web side.
Iwata - Using this organization, what services did you think needed to be prioritized for Japan?
Oda - Firstly, our main priority was that anybody could easily use the functionality, whether it was viewing the TV guide, or using search, although specifically for Japan we presumed that Japanese viewers are typically passive in regards to program search, and wondered what it would be like if we could provide functionality that would suggest programs that the viewer might enjoy.
Iwata - This was specifically for Japanese customers then.
Oda - Yes. And so we were able to take advantage of Team Labo's "Recommend Engine".
Iwata - The "Recommend Engine" is Team Labo's flagship service, based on their own prior research. Would you please explain more about the recommendation functionality in regards to Nintendo TVii?
Oda - To put it simply, as a viewer watches programs and marks them as a like'd program, the Recommend Engine will analyze that data and suggest related programs.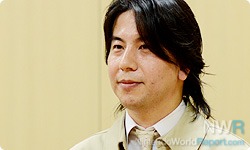 Iwata - For instance, as a viewer always checks celebrities they like, or programs with similar themes the recommend engine will suggest correlative programming.
Oda - Indeed. In the case of Nintendo TVii, the system son't just analyze that particular viewer's trends, but also data from other viewers, providing suggestions that are all encompassing.
Iwata - With the Wii U you can have an account for each user, so would that mean that each member of the family would get personalized suggestions?
Oda - At first we considered implementing that, although as we mentioned previously, based on our analysis of Japanese television viewing culture, we chose to make Nintendo TVii something that the whole family could use together rather than assuming that viewers would watch programs separately. Regardless of which account the family is using at any given time, the engine does include separate categories per interest, and therefore each separate member would indeed be included in the recommendations, however the recommended elements are all considered together, and as such the recommendations become specialized for that family. To put it the other way, it would be ideal if each family member would learn one another's likes and recommendations, and that could become a base of conversation for them.
Iwata - Have there been any instances where the Recommend Engine has surprised you with its recommendations?
Oda - There have been.
For instance, just by registering the word "ramen" it recommends programs that you wouldn't normally notice. However, this is talking about during development, so it's not particularly accurate. It's designed so that, the more people use it after the service actually begins, the more accurate it will be.
Iwata - Ah, that's how it works in principle. The "Recommend Engine" collects everyone's knowledge on the server, and that's how its accuracy will increase.
Oda - Yes. The engine will take the collected data, and from those trends present suggestions based on preference.
Iwata - It will be fun to find out just what kind of programs we'll be introduced to from these recommendations. By the way, what sticks out in your mind from development on the project?
Oda - There are many different companies that contribute to the Japanese TV broadcasting world, and so it's a world where you have to pay special attention to various rights and positions. IPG, the company that's providing the program data is, you could say, a pioneer of Japanese TV EPG(※12)and a top planner, so they let us consult with them about many things that have never been discussed before, and lead us as a partner in order to bring this service to fruition.
The first time we met Mr. Toji, the president of IPG, he gave us a passionate message, "As population decline and the youth grow further away from TV, together I"d like to create a framework that would allow more people to enjoy TV even more."
It's been the kind of collaboration where IPG, a company with plethora of  TV program information and Nintendo, a company in a completely different field that's good at "making play" could come together and make something brand new, at the same time not only are our fields and culture completely different, but our data frameworks are as well, and as such during development many different interesting phenomena occurred.
※12 EPG=Electronic Program Guide
Kamigawa - Indeed, while we were developing the service one of the problems that occurred was incorrect information hitting. For instance, once time the Enka singer Jero was listed as an actor in a program he had nothing to do with. What had happened was that the information blurb about the program contained the phrase "Mitsubishi Pajero", and that led to a false positive. (laughs)
In addition to that, "Rola" hit in response to the phrase "Slow Life", and the comic duo Audrey ended up displaying as featured in "Roman Holiday". (laughs)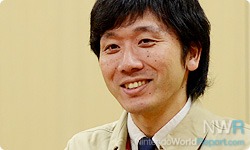 Everyone - (laughs)
Oda - It's certainly tough completely filtering out all the errors that would occur from the differences between IPG's database search program and the framework we built, however we plan to improve on this thanks to the cooperative relationship we've built with IPG.
Iwata - It's in instances like this that it pays off that the services are up on the server, so we can continually update and improve them.