Justin remembers two mall tours during Pokémon's early years.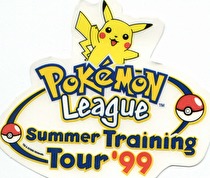 It's hard to pick just one of my favorite memories when it comes to Pokémon, but after thinking long and hard I've managed to settle on two that are closely tied together. I was one of those who heard about Pokémon long before its American release in the pages of Nintendo Power and jumped on the franchise from day one here in the States. However, being a fan of the series came to its pinnacle over the course of the next two years at two distinct events. The Pokémon mall tours.
The first tour, the Pokémon Summer Training Tour '99, was an eye opening experience. The mall I went to had so many Pokémon fans in one place that it made that in itself a beacon of great discussion for all things related to the franchise. I was deep into the Game Boy titles at the time and also played the card game. So there was competition all over the place.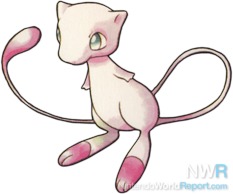 There were also official Mew giveaways. In order to get one people waited in line so they could insert their Game Boy Pokémon cartridge into a big green machine with a screen and an SNES controller. Once it was in there an animation would play and a Mew would be added to your party. Needless to say, my sister and I got back in line several times before getting told to stop. I eventually traded one of these Mew, and the authenticity certificate, for a Charizard card.
My sister, playing in a lesser division, actually made it to a special area where she could battle a Nintendo rep. The prize for winning was a cool Mewtwo hat. She was so sick and couldn't talk so I had to help her communicate to the rep. I think the guy felt bad for her and let her win, but to this day she still rubs that hat in my face since I didn't get one. Oh yeah, they played each other using the Wide Boy N64 carts linked together via a Game Boy Link Cable. Super cool!
When it came to the Game Boy game I trashed some noobs, but also managed to get my ass handed to me. I learned a lot about the competitive parts of the game and some Nintendo reps gave me clues on how to learn the hidden deep mechanics. I scoured the web using their clues and found a website that really broke everything down. The Internet wasn't as developed back then as it is today, so finding reliable resources like this was a challenge.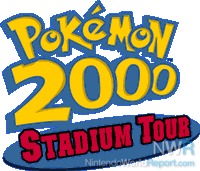 This knowledge helped me when I returned to the follow up mall Tour, the Pokémon 2000 Stadium Tour. This time one of the big focuses was, of course, the release of Pokémon Stadium on N64. By the time the mall tour reached my area, Stadium had been out for a while. So it made training a kick ass team really easy thanks to the sped up gameplay you could do while playing the Game Boy games through Pokémon Stadium.
At that time I had a team full of Mewtwo, easily the most broken Pokémon at the time. The rules only allowed for one of each Pokémon on a team of three for competition, but I also had a Mew and something else in my party. And just for a scare tactic, I showed off three extra Mewtwo. The rules stated we had to show our opponents in competition the team of six Pokémon and then pick three. However, my strategy of showing off all those extra Mewtwo really scared the garbage out of people.
I ended up dominating that year, only losing to a Nintendo rep who had some perfect stat Pokémon. I later learned all of the reps had been using glitches to clone these great Pokémon to one another. Regardless, it was a good time and I left both years with all the available badges that could be earned.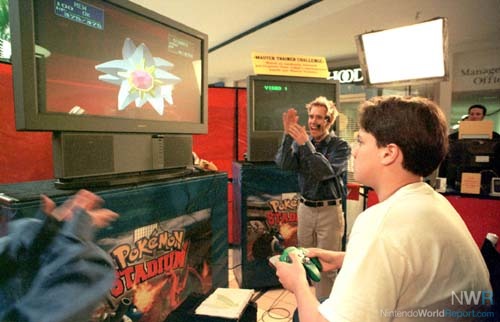 The final memory of the Pokémon 2000 Mall Tour I have is of the East vs. West competition that took place. Some people were selected at random to compete in a mini tournament and the winner of the East coast competition, where I was, would get to face off against the winner on the West coast in real time, via satellite, in Pokémon Stadium. Spectators really got into the final battle and I was very happy that the East Coast won.
(Above Image: The West Coast finalist doing battle in the East vs. West satellite battle.)
Thanks to the insane and universal Pokémon fever, and the insatiable lust to be the best, these two events will probably forever be my fondest Pokémon memories.
Summer Training Tour '99 Sticker Image From: http://www.angelfire.com/pq/pokemontrainer/plstt99.html