Check out the big list of games that could appear on Nintendo platforms at E3 and listen to us discuss them all.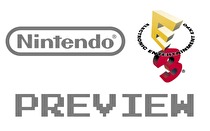 It's hard to believe, but E3 is only a week away. Seven days from now the entire NWR staff will be doing everything they can to deliver the best Nintendo E3 coverage possible.
So what games could make an appearance at E3 on Nintendo platforms? Below Neal Ronaghan, Justin Berube, and Donald Theriault discuss just about every announced title that has any sort of chance of making an appearance at the show and make some fun predictions as to what unannounced titles we could see. So listen in and be sure to check out the list of possible E3 games below.
---
Nintendo
Wii U
Art Academy: Home Studio (eShop)
Devil's Third
Fatal Frame V
Mario & Sonic at the Rio 2016 Olympic Games
Mario Maker
Project Giant Robot
Project Guard
Project Treasure (eShop)
Shin Megami Tensei X Fire Emblem
Star Fox Wii U
The Legend of Zelda Wii U
Xenoblade Chronicles X
Yoshi's Woolly World
Nintendo 3DS
Animal Crossing: Happy Home Designer
Bravely Second End Layer
Chibi-Robo!: Zip Lash
Fire Emblem If
Great Detective Pikachu
LBX: Little Battlers eXperience
Mario & Sonic at the Rio 2016 Olympic Games
Pokémon Super Mystery Dungeon
Rhythm Heaven
Style Savvy 3
Yo-Kai Watch
Hardware
Amiibo 3DS Adaptor
Animal Crossing: Happy Home Designer Amiibo Cards
Chibi-Robo amiibo
Pokkén Tournament Arcade
Smash Bros. Amiibo Wave 5
Yoshi's Woolly World Amiibo
---
13AM Games
Runbow (Wii U eShop)
---
Activision
Guitar Hero Live (Wii U)
Skylanders SuperChargers (Wii U/3DS)
---
Atlus
Stella Glow (3DS)
---
Bandai Namco
Project X Zone 2 (3DS)
---
Capcom
Mega Man Legacy Collection (3DS eShop)
---
Deep Silver
Mighty No. 9 (Wii U/3DS eShop)
---
Disney Interactive Studios
Disney Infinity 3.0 (Wii U)
---
Image & Form
SteamWorld Heist (3DS eShop)
---
Little Orbit
Adventure Time: Finn and Jake Investigations (Wii U/3DS)
---
Natsume
Brave Tank Hero (Wii U/3DS)
Gotcha Racing (3DS)
Harvest Moon: Seeds of Memories (Wii U)
---
NIS America
Rodea the Sky Soldier (Wii U/3DS/Wii)
---
Pencil Test Studios
Armikrog (Wii U eShop)
---
Playtonic Games
Yooka-Laylee (Wii U eShop)
---
Renegade Kid
Dementium Remastered (3DS eShop)
Mutant Mudds Super Challenge (Wii U eShop/3DS eShop)
Treasurenauts (3DS eShop)
Xeodrifter (Wii U eShop)
---
SEGA
Hatsune Miku: Project Mirai DX (3DS)
Sonic Boom: Fire & Ice
---
Shin'en
Fast Racing NEO (Wii U eShop)
---
Square Enix
Theatrhythm Dragon Quest (3DS)
---
Warner Bros. Interactive Entertainment
LEGO Avengers (Wii U)
LEGO Dimensions (Wii U)
---
XSeed
Return to PopoloCrois: A Story of Seasons Fairytale (3DS)
Senran Kagura 2 (3DS)
---