Our beloved site director aims at shooting, bombing, and... Chinese food?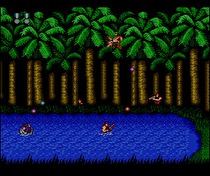 Super C
Original Platform: NES Virtual Console Platform: Wii (500 Points), 3DS ($4.99), Wii U ($4.99)
Available on every Virtual Console platform, Super C is a fantastic entry in the Contra series and, for better or worse, the only NES representation the series has on Virtual Console. It's a hard as nails side-scrolling shoot-'em-up as you control one of two different rad shirtless dudes. Oddly, the Konami code doesn't work here, which makes it a little sad. You can rock Download Play on your 3DS, though, which is neat.
Contra III: The Alien Wars
Original Platform: SNES
Virtual Console Platform: Wii (800 Points), Wii U ($7.99)
At the end of the first stage of Contra III, you fight a giant mutant turtle. That's only a fraction of the crazy on display in this early Super Nintendo tour de force. Arguably the best version of Contra around, Contra III is packed to the gills with action, shooting, and ridiculous aliens. Before Konami is swallowed whole and this game goes up in smoke, maybe grab a buddy and ride through the fun levels in this classic.
Bio Miracle Bokutte Upa
Original Platform: Famicom
Virtual Console Platform: Wii (500 Points)
Bio Miracle Bokutte Upa is a weird curio of an import game that first came out in 1988 on the Famicom. In it, you play as a baby who uses a rattle to fight enemies. It is super weird, but it's actually an inspired platform game that, if you're looking for an off-the-beaten path NES-era platformer, is totally worth checking out while you can still get it.
Chew Man Fu
Original Platform: TG-16
Virtual Console Platform: Wii (600 Points)
Chew Man Fu's plot doesn't inspire much confidence. The villainous title character has cursed the world so that way fried rice, egg rolls, and more food are gone. Fortunately, the game itself is awesome. Chew Man Fu is a series of single-screen puzzle levels where you have to kick and move four different colored balls to their matching goals all the while avoiding or defeating enemies. It's challenging and fun, and even better, you can play through the whole game with a friend.
Bomberman '94
Original Platform: TG-16
Virtual Console Platform: Wii (700 Points)
Most of the entries in the Bomberman series have a single-player and this entry, originally released in late 1993 exclusively in Japan, is no different. But whatever, Bomberman is all about the multiplayer. Bomberman '94's multiplayer is playable with up to five players – even on Wii. If you're looking for a fun and frantic multiplayer game, this is a great option. However, if you are playing this on Wii U, you are limited to just four players because of the lack of GameCube controller support.