16-bit platformers, dungeon crawlers, and "Money Battle" RPGs are the focus of releases on Nintendo's digital store this week.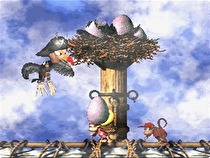 The Nintendo 3DS and Wii U eShops are still moving their merry way into the holiday season with another full week of digital content. On the handheld side of things the 3DS is getting a few high profile titles to go along with some cheaper, shorter titles. Etrian Odyssey Untold 2, the sequel to Millennium Girl, hit retail and the digital space this week, while at the same Sega's latest entry into the virtually unknown (both in Japan and the West) Hero Bank series is getting a sequel. Throw in the stand alone version of Mighty Gunvolt, a demo for Urban Trial Freestyle, and the fourth volume of Super Mario-kun comics and you have a pretty solid week on Nintendo's handheld.
The Wii U might not have all that much in terms of new high profile releases, but it's still going strong on the Virtual Console side of things. All three games from the Super Nintendo/Famicom Donkey Kong Country series are available on the service starting this week. The Donkey Kong Country series was delisted from the Wii Virtual Console in all regions back in 2012. The games were recently brought back to Nintendo's home console via the Wii U Virtual Console last month in Europe and Australia. As it stands, NOA is dragging their feet to get these games out in North America, so unfortunately many of you poor folk have to wait (let's hope it's just on the horizon!).
At any rate, to take a full look at all of the releases this week on the eShop, be sure to check out the full round-up below!
3DS
Downloadable Titles
Squids - HIppari Ika no Daibōken - 500 yen
Dokopon Choice: Super Mario-kun vol. 4 31-40-kan Pack
Mighty Gunvolt - 300 yen
Maru Gōkaku! FP2-kyū Heisei 26 - 27-nendo-ban - 1,980 yen
Maru Gōkaku! FP3-kyū Heisei 26 - 27-nendo-ban - 1,980 yen
Gotōji Testsudō - Gotōji Chara(cter) to Nippon Zenkoku no Tabi (retail title) - 5,627 yen (from 11/27)
Shin Sekaiju no Meikyū 2: Fafnir no Kishi (Etrian Odyssey Untold 2, retail title) - 5,400 yen (from 11/27)
Hero Bank 2 (retail title) - 5,550 yen (from 11/27)
Urban Trial Freestyle Demo - FREE
Virtual Console
NA (no titles since 5/7)
Wii U
Downloadable Titles
Gotōji Testsudō - Gotōji Chara(cter) to Nippon Zenkoku no Tabi (retail title) - 6,664 yen (from 11/27)
Virtual Console
Super Donkey Kong (Donkey Kong Country, Super Famicom) - 823 yen
Super Donkey Kong 2: Dixie and Diddy (Donkey Kong Country 2, Super Famicom) - 823 yen
Super Donkey Kong 3: Nazo no Kuremisu Shima (Donkey Kong Country 3, Super Famicom) - 823 yen
Detana!! TwinBee (PC Engine) - 617 yen