It's a slow week, but some demos and Goemon are here to save the day.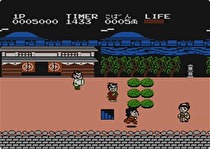 Another week, another batch of downloadable titles on the eShop. This week in Japan, the pickings are a bit on the slim side. Also, this week roughly marks the two month mark since the last Virtual Console release on the 3DS. Despite this, the Wii U is still getting some love with Famicom Goemon and Quinty. Both systems now have demos for Edge, a puzzle platformer from Two Tribes that was released last year in North America. The game came out in early June in Japan. Unlike the rest of the world, demos on the Wii U in Japan are a rare and exotic treasure, so this is very welcome addition to the paltry number that are available!
For a complete look at all of the releases this week, check out the round-up below!
3DS
Downloadable Titles
Gacha Racing - 700 yen
Dokopon Choice Kosumo Kyōdai Vol. 2 11 - 20-kan Pack - 5,400 yen
Dokopon Choice Black Bird Vol. 2 10 - 18-kan Pack - 3,960 yen
Edge DEMO - FREE
Virtual Console
NA

Wii U
Downloadable Titles
Wai Wai! Minna de Shooting Craft Island kara no Dasshutsu! - 1,000 yen
Edge DEMO - FREE

Virtual Console
Ganbare Goemon! Karakuri Dōchū (Famicom) - 514 yen
Quinty (Mendel Palace, Famicom) - 514 yen