Capcom hopes you like fighting games.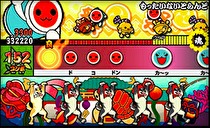 It's another packed week for both Nintendo platforms as tons of titles hit the eShop. Similar to the rollout last summer in the West, Capcom has decided to bring three Super Famicom Street Fighter games to the Wii U VC for those wanting to fill their fighting game needs. Bonk also makes a return, Wii U Sports Club Baseball and Boxing are set to release this Friday, and Pac-Man and the Ghostly Adventures gets a digital only release on Nintendo's home console.
The 3DS is also seeing a healthy dose of software. On top of a slew of cheaper download only titles, the latest entry in the Taiko Drum Master series is hitting the handheld this week. This marks the second game in the series to hit 3DS. This version features an adventure mode and is loaded with tons of popular songs. Unfortunately though, the handheld Virtual Console is absent once again this week.
For a complete look at all of the downloads this week, check out the round-up below!
3DS
Downloadable Titles Simple DL Series Vol. 30 - The Number Puzzle - 400 yen
Gakki de Asobo Tanoshi Dōyō - 100 yen
Gunma no Yabō for Nintendo 3DS - 500 yen
Shizuku - 300 yen
Dokopon Choice Tonari no Atashi 1 - 10-kan Pack - 4,400 yen
Fushigi no Kuni no Bōken Sakaba - 648 yen
Puchi Novel Kongi no Roku-gatsu - 200 yen
Taiko no Tatsujin Dontokatsu no Jikū Daibōken (retail title) - 5,119 yen (from 5/26)
Metal Fight Beyblade: 4D x Zerog Ultimate Tournament (retail title) - 5,184 yen (from 5/26)
Gacha Racing DEMO - FREE
Virtual Console
NA
Wii U
Downloadable Titles
Pac-World (Pac-Man and the Ghostly Adventures, Download only) - 4,000 yen
Kamen Rider Battride War II (retail title) - 7,690 yen (from 5/26)
Wii Sports Club: Baseball - 1,000 yen (can be purchased with Boxing as a set for 1,000 yen, from 6/27)
Wii Sports Club: Boxing - 1,000 yen (can be purchased with Baseball as a set for 1,000 yen, from 6/27)
Virtual Console
Street Fighter II: The World Warrior (Super Famicom) - 823 yen
Street Fighter II: Turbo Hyper Fighting (Super Famicom) - 823 yen
Super Street Fighter II: The New Challengers (Super Famicom) - 823 yen
PC Genjin 3 (Bonk 3: Bonk's Big Adventure, PC Engine) - 617 yen