How about a side of space simulation with your Hatsune Miku?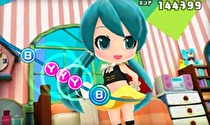 This is probably the most packed week of releases in the history of the Nintendo 3DS eShop. Sure, there are quite a few throw away titles, but there are some decent full games and demos out there this week too.
Hatsune Miku: Project Mirai 2 is one of the heavy hitters giving gamers another quality option for rhythm gaming on their 3DS. Puzzle and Dragons Z has even made an appearance in demo form for the first time since the Tokyo Game Show. As for the 3DS Virtual Console, Star Luster, a Japan only space simulation/exploration title for the Famicom, looks to offer a pretty unique experience. For 500 yen, it could be worth it to hybrid strategy/first person shooter-ish game is any fun. Also, unveiled for release today on the 3DS eShop, gamers can explore the Lourve in 3D on their 3DS thanks to some new software from Nintendo. Even the Wii U is getting some love this week with Assassin's Creed IV and Contra III on the Wii U Virtual Console. Check out everything below to see the bevy of content available on the eShop this week.
3DS
Downloadable Titles
Nintendo 3DS Guide: Louvre Bijutsukan (The Louvre) - 1,800 yen
Simple DL Series Vol. 23 The Kanshiki-kan - File 2 Kinkyū Shutsudō! Ochita Hoshi o Oe! - 500 yen
Urban Trial Freestyle - 500 yen
Excave - 700 yen
Kiwamero! Shunkan Jump Kentei (Jump Trials Supreme) - 500 yen
Kiwamero! Shunkan Jump Kentei (Jump Trials Supreme) DEMO - FREE
Game Zanmai - 500 yen
Dokopon Choice Meitantei Conan (Detective Conan) Vol. 2: 11-20-kan pack - 4,200 yen
Kamen Rider Traveler's Senki (retail title) - 5,480 yen (from 11/27)
Kodomo ni Anshin Shite Ataerareru Game Series: Sekai Meisaku Dōwa Oyako de Yomeru Game Ehon Princess-hen (retail title) - 3,990 yen (from 11/27)
Kodomo ni Anshin Shite Ataerareru Game Series: Sekai Meisaku Dōwa Oyako de Yomeru Game Ehon Princess-hen (retail title) DEMO - FREE
Kodomo ni Anshin Shite Ataerareru Game Series: Sekai Meisaku Dōwa Oyako de Yomeru Game Ehon Bōken-hen (retail title) - 3,990 yen (from 11/27)
Kodomo ni Anshin Shite Ataerareru Game Series: Sekai Meisaku Dōwa Oyako de Yomeru Game Ehon Bōken-hen (retail title) DEMO - FREE
Toriko Ultimate Survival (retail title) - 5,980 yen (from 11/27)
Nankōfuraku Sangokuden - Shu to Toki no Dōjaku (retail title) - 5,800 yen (from 11/27)
Hatsune Miku Project Mirai 2 (retail title) - 5,600 yen (from 11/27)
Wan Nyan Pet Shop (retail title) - 5,040 yen (from 11/27)
Model Oshare Audition Dream Girl DEMO - FREE
Kirameki Wakuwaku Sweets DEMO - FREE
Puzzle and Dragons Z DEMO - FREE
HomeTown Story DEMO - FREE
Virtual Console
Star Luster (Famicom) - 500 yen
Wii U
Downloadable Titles
Assassin's Creed 4: Black Flag (retail title) - 6,930 yen
Virtual Console
Contra Spirits (Contral III: The Alien Wars, Super Famicom) - 800 yen
Rushing Beat Ran: Fukusei Toshi (Brawl Brothers, Super Famicom) 800 yen