Wii Sports Club cometh.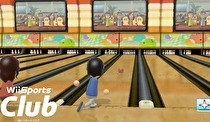 The release list is starting to heat up in Japan this week with Wii Sports Club and Wii Fit U from Nintendo. After a relatively slow month, the eShop is just overflowing with new content, particularly on the Nintendo 3DS, with tons of demos, downloadable titles and even the digital release of Kid Icarus: Uprising. 
Daigasso! Band Brothers P is also getting somewhat of a blowout on the eShop and the Chotto Nintendo Direct from October 29 is available as well. Regardless of your personal tastes, this week's releases have a good mix of all kinds of genres. For a complete look at all of the releases in Japan, take a look below!
3DS
Downloadable Titles
Simple DL Series Vol. 18 - The Shogi - 400 yen
Simple DL Series Vol. 19 - The Go - 400 yen
Simple DL Series Vol. 20 - The Card Daifūgō Poker Blackjack - 400 yen
Simple DL Series Vol. 21 - The Kanshiki-kan - File.1 Kinkyū Sōsa! Jūyō Shōko o Touch Seyo! - 500 yen
Big Bass Arcade - 700 yen
Danbōru Senki Wars (Little Battlers Wars, retail title) - 4,980 yen
Shin Hikari Shinwa Palutena no Kagami (Kid Icarus Uprising, retail title) - 4,790 yen
Gureko kara no Chōsen-jō! Eitango no Shima to Obake-tachi Step 1 DEMO - FREE
Gureko kara no Chōsen-jō! Eitango no Shima to Obake-tachi Step 2 DEMO - FREE
Tamagochi! Se-shun Dream School DEMO - FREE
Medalot Dual Kuwagata Ver DEMO - FREE
Seisō no Amazonesu DEMO - FREE
Virtual Console
Hanjuku Hero (Famicom) - 500 yen
Wii U
Downloadable Titles
Wii Sports Club (Tennis, Bowling) 1,000 yen each (or 200 yen 24 hours rental)
Wii Party U (retail title) - 4,620 yen
Wii Fit U - FREE (from 10/31)
Virtual Console
Tennis (Famicom) - 500 yen
Daikōkai Jidai II (Uncharted Waters: New Horizons, Super Famicom) - 800 yen