The staff mind-melded and came up with our collective five favorite games of 2013 to date.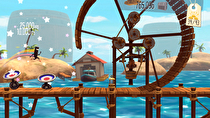 Today is July 2, which means we are roughly halfway through the year. So far, 2013 has been a great year for 3DS owners (and, I guess, a year for Wii U owners). After sifting through many NWR staffer's lists of their favorite games of the year so far, I've managed to come up with the Nintendo World Report's Top 5 Games of 2013 (So Far).
#5 - Bit.Trip Presents Runner2: Future Legend of Rhythm Alien (Wii U)
Our Review - 10/10
Runner2 is that special kind of game that exceeded all of my expectations, and it certainly was adored by a lot of our staff. Gaijin Games' latest game takes everything good about their 2010 release Bit.Trip Runner and turns it up to 11. As I said in my sparkling review, "Runner2 is the type of sequel you dream happens. It takes the concepts and gameplay of the original and advances them in every way."
Zach Miller sez: "Runner 2 is the most insanely addictive, zen-state-of-mind game I've played in a long time, with charming graphics and catchy beats."
#4 - LEGO City: Undercover
Our Review - 8/10
When LEGO City: Undercover came out in March, it ended a long Wii U drought for Nintendo games. Fortunately, it is a game that is absolutely packed with content. What it lacks in nostalgia-fueled Star Wars and Batman references, it makes up for with engaging gameplay and an over-the-top pop culture-laden story.
Zack Kaplan sez: "Like LEGO, the brick, LEGO City Undercover is just plain fun regardless of age."
#3 - Fire Emblem Awakening
Our Review - 9.5/10
The odds are high that, looking back, Nintendo historians will place Fire Emblem Awakening as the moment the series emerged from the shadows and became a higher tier Nintendo franchise. With record-breaking sales and worldwide acclaim, Awakening's placement at third in our mid-year Top 5 is more because of the quality of the competition than anything else. This game is a pure joy from start to finish, with marriages, side quests, and more post-game content than you can shake a stick at.
Scott Thompson sez: "Fire Emblem Awakening isn't only the best, most refined entry in the long-running series, it's also the most accessible."
Josh Max sez: "Fire Emblem Awakening added new elements of game play that no one had even thought about before. It brought life to the series again, drawing in both fans of the franchise and new comers."
Becky Hollada sez: "Fire Emblem: Awakening took everything old fans loved about the series and made it better while adding new features and more extensive content to hook new players into a previously under appreciated franchise."
#2 - Luigi's Mansion: Dark Moon
Our Review - 9.5/10
The long wait for Luigi's Mansion: Dark Moon proved to be well worth it. March 2013 is quite a long while after its 2011 reveal and the 2001 release of the original. Nevertheless, Dark Moon is something magical; it is a portable experience that doesn't lose the fun exploration and charm of the original. The multiplayer, played locally or online, distills what works about the single-player and translates it to multiplayer extremely well. Developer Next Level Games had the task of trying to make their online multiplayer more engaging than Mario Kart's, and at least for me (and the NWR staff at E3 2013), it succeeded.
Neal Ronaghan sez: "Luigi's Mansion: Dark Moon was one of my most anticipated 3DS games, and I was downright scared it wouldn't live up to my expectations. In the end, it outshined my highest expectations."
Tom Malina sez: "Everything the GameCube original should have been, Luigi's Mansion 2 is an incredibly entertaining romp that overflows with personality and intelligent level design."
#1 - Animal Crossing: New Leaf
Our Review - 9/10
The shrink wrap is barely off of New Leaf and already our staff is in love with it. If we had our druthers, it would have likely been our E3 2013 Game of Show. Not only is the 3DS perfect for the Animal Crossing style of play, but New Leaf is also the ultimate entry in the series. It is totally drowning in content and things to do. Personally, I'm pushing 30 hours and I feel like I could easily triple that and still have things I want to do!
Alex Culafi sez: "Not only do I love Animal Crossing, but as a 3DS game it melts the hours away like no other; it's been so long since I've played a game for 70 hours and had it feel like far fewer."
Andy Goergen sez: "Animal Crossing perfectly encapsulates what it feels like to be a Nintendo fan: charming, a little clunky, but completely engrossing and it always leaves you with a smile."
Justin Baker sez: "New Leaf is not only the best Animal Crossing game yet, it's the most engrossing 3DS game I've played to date."
Best of the Rest
We had a lot of games that people listed as one of their favorites of the year so far, so instead of just blowing through the five amazing, spectacular games we listed above, here's a list of honorable mentions. Some of our staff thinks these games beat the pants off of the games above, so, you know, they're pretty great, too.
Monster Hunter 3 Ultimate (Wii U/3DS)
Donkey Kong Country Returns 3D (3DS)
Mighty Switch Force 2 (3DS)
Rayman Legends Challenges App (Wii U)
Etrian Odyssey IV (3DS)
Mutant Mudds Deluxe (Wii U)