Kunio-kun, Fire Emblem, Tails and My Deco-Rainbow Wedding bring the heat this week on the eShop.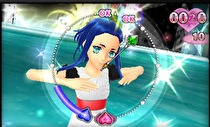 Another week, another batch of games on the eShop. As usual, the Wii U eShop update is expectedly barren, but the 3DS never misses out on some digital love. Have you always wanted a deco-rainbow wedding (whatever that means)? Well, that dream can become a reality if you buy the game or just read about it below. Anyway, here's what released this week:
3DS
Downloadable Titles
@Simple DL Series Vol. 9 The Misshitsu kara no Dasshutsu - Terebi Kyoku Mitchaku 24-ji Hen - 500 yen
@Simple DL Series Vol. 10 - The Uwaki Kareshi - Christmas Chūshi no Oshirase - 300 yen
Maido Hebo Shōgi - 500 yen
Nintendōji (DSiWare) - FREE (Club Nintendo Exclusive)
Virtual Console
Fire Emblem Gaiden (Famicom) - 500 yen
Nekketsu Kōha Kunio-kun (Famicom, Renegade) - 500 yen
Tails Adventure (Game Gear) - 300 yen
Wii U
Downloadable Titles
Dragon Quest X - Mezameshi Itsutsu no Shuzoku (retail title, released 3/30) - 6,980 yen
Video Content
Nintendo has put the most recent Chotto Nintendo Direct, which happened earlier this week and focused on downloadable titles, up on the eShop in its entirety. They also break it down into segments, so you can have easy access to videos for Dillon's Rolling Western: The Last Ranger and Freaky Forms Deluxe, which are both releasing in Japan next week. Aside from that, there are gameplay videos for all of the downloadable and Virtual Console titles as well as a new preview video for Professor Layton and the Azran Legacies, Nano Assault Neo, and Fractured Soul.
There is also a new commercial for Pretty Rhythm My Deco-Rainbow Wedding for 3DS, a personal favorite of mine. Joking aside, it's a rhythm game that is clearly aimed at young girls. You can create your own character in the game complete with cute outfits so that they can dance the night away. In the commercials posted on the eShop, three young, pretty girls are rocking out to the game and going kind of crazy. Games like this are pretty commonplace here in Japan and, for better or worse, nobody really bats an eyelash at these clearly defined gender roles. I'm just wondering why they're not trying to appeal to older, late twenty-something guys like me with this!
BILinkHTML