Free tanks, Space Harrier 3D, Milon's Secret Castle, Famicom Wars and more 3DS retail games hit the eShop this week.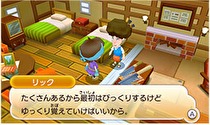 It's another beefy week here in the Japanese download space as the Wii U gets it's first downloadable title with a free version of Tank! Tank! Tank! and the Nintendo 3DS gets a myriad of titles. While having a free version of Tank! Tank! Tank! is a good thing, it should be noted that this is an extremely stripped down version of the game that limits you to three plays per day unless you purchase various modes for the game. At any rate, here are all the titles that were released on the eShop in Japan:
3DS
3DS Downloadable Titles
Nyokenshi Akane – 700 yen
3D Space Harrier – 600 yen
Zombie Slayer – 700 yen
Chari Sō DX – 600 yen
Blazblue Kuron Fantazuma – 800 yen
Fantasy Life (retail title) – 5,800 yen
ESSE Rakuraku Kakeibo (retail title) – 2,800 yen
Kūkan Sagashi Mono Kei Nōryoku Kaihatsu 3D no Training (retail title) – 2,800
New Love Plus (retail version) – 4,800 yen
Biohazard: The Mercenaries 3D (retail version) – 2,600 yen
Moe Moe Dai Sensō Gen Daiban 3D (retail title) – 5,400 yen
Virtual Console
Famicom Wars (Famicom) – 500 yen
Meikyū Kumikyoku: Milon no Daibōken (Famicom, Milon's Secret Castle) – 500 yen
Wii U
Wii U Downloadable Software
Tank! Tank! Tank! – FREE (3 play limit per day, freemium version)
Monster Hunter 3 (tri) G HD Ver. – 4,300 yen
Video Content
There are quite a few videos on the eShop this week. First up, is a video for the recently released Dasshutsu Adventure Majo no Sumu Yakata (Escape Adventure - The Witch's Mansion) from Arc System Works. The video is streaming in 3D and shows about a minute of gameplay footage. Players make their way around the witches mansion looking for clues and items to help them escape. There are several other videos for this week's releases too. While there are gameplay videos for Bird Mania (which released last week on the 3DS in Japan), Nyokenshi Akane and 3D Space Harrier, some of the other releases from this week have caught my eye.
Zombie Slayer puts players in the role of a blonde, metal guitarist who is making his way through swarms of zombies. It's a sidescrolling game that has musical elements where players have to correctly input directions shown on the screen to cut through the zombie horde. It wasn't clear if this was done with physical buttons or via the touch screen. Blazblue Kuron Fantazuma is a 3D beat 'em up that uses chibified characters from the Blazblue universe. The video showed the player tearing through multitudes of enemies. Charisō DX has players controlling a stick man who is riding a bicycle having to make various jumps to avoid crashing. Players can even perform double jumps to reach higher platforms. Locales range from places like London to bizarre neon colored floating platforms in the sky. It looks kind of strange but has a really cool aesthetic.
Mario also makes another appearance on the eShop this week for New Super Mario Bros. U. There are two commercials which show a man and woman (presumably husband and wife) helping each other through the stages by strategically placing platforms over pits and to help reach star coins.
Fantasy Life from Level 5 has a new preview video available. The video is over six minutes long and showcases the game's various jobs. There is quite a variety of jobs or "lives" that players can choose from, including things like carpenters, prospectors, warriors and others. The game can be best described as a cross between Animal Crossing and old school, isometric view games. Aside from fighting monsters and finding loot, players can fish, decorate their houses and explore the various landscapes that this game has to offer. For more information about the game, be sure to read my impressions from the Tokyo Game Show.