The top 10 list of Wii game soundtracks, according to mii. Uh, me.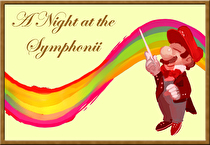 I love music, especially game music. The soundtrack to any game is a huge part of the experience for me, possibly even more so than graphics or art style.
In personal opinion, a game should have a captivating score that sets the stage and provides a melodious accompaniment to the on-screen action.
A game, to me, is far less memorable if the music isn't as likely to pop into my head years down the track and inspire me to give it another play through for old time's sake.
Nintendo music strikes a particular chord in the gaming industry, pun certainly intended; the success of the recent Zelda concerts are a testament to that. On top of the stellar lineup of games the Wii had during its lifespan, I like to think this console in particular collectively featured some of the all time best soundtracks in video game history. Thus, as a kind of dual-purpose farewell serenade to the Wii and holiday gift to you, dear readers, I've put together a list of my top 10 game soundtracks on the console, with some handy little music players to sample some of my personal favorite tunes.
Keep in mind that this list is in no particular order and no other NWR staffer was involved in the selection of this music. It's just a sample of my own personal taste for you guys to enjoy. Feel free to share your thoughts and your own favorites in the talk back thread below.
But for now, click on the contents links to the right, plug in your headphones and hum along!
Credit for the painted title pic goes to Noura.