Neal punches out a Bully, adds a Last Story, and continues his way through Skylanders and Xenoblade.
Current Backlog Size: 11 Wii games, 2 GameCube games, 2 Virtual Console games
Goal: Play (but not necessarily beat) them all by the Wii U launch
Progress Since Last Update: Bully, Playing Skylanders/Xenoblade Chronicles/Brawl, Added The Last Story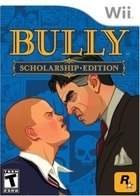 Since last time, I've played more Skylanders, playing as a few new characters and making progress on 100%-ing everything.
I finally threw in Bully: Scholarship Edition, and after about an hour, couldn't take the imprecise waggle controls. I think that's some sort of evidence that I'm over that kind of motion control. The game seems awesome, but I just can't get over that. I might track it down on PlayStation 2 or Xbox 360, or maybe see if it shows up on Sony's PS2 Classics on PlayStation 3. So, Bully is being exorcised from my list.
I did replace it, though, with The Last Story. I bought that. Then I opened it. And then I played some more Xenoblade Chronicles. I didn't get a chance to dive too much farther back into it, but I'm pretty happy with how easy that game is to jump back into. I thought I'd be totally lost, but I just sunk back into it.
I played a little bit of Super Smash Bros. Brawl as well, though I didn't get too far in my quest to unlock all the characters again.
Most of my game time has been occupied with Kingdom Hearts 3D and New Super Mario Bros. 2 on the 3DS, and making use of my PlayStation Plus account on PS3. If you have a PS3, I highly recommend it. The Walking Dead, Lara Croft and the Guardian of Light, Pac-Man Championship Edition DX, and Just Cause 2 are all pretty awesome.