People can get a free taste of Kingdom Hearts and Wario is back on the Virtual Console.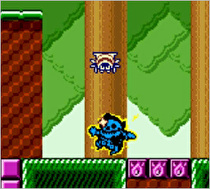 It's another great week for the eShop in Japan, one that everyone outside of Japan dreams of. This week, more DLC, a demo, and the Virtual Console have all made appearances. Let's get to it:
3DS Downloadable Software
Kingdom Heats: Dream, Drop, Distance DEMO – FREE
Virtual Console
Wario Land 3: Fushigi na Orugōro (Wario Land 3, Game Boy Color) – 600 yen
DLC
Theatrhythm Final Fantasy Songs (four songs) – 150 yen each
Fire Emblem: Kakusei Character (Micaiah from Radiant Dawn) – 300 yen
Fire Emblem: Kakusei Character (Alm from FE: Gaiden) – 400 yen
Fire Emblem: Kakusei Scenario – Transfer of Gold and Silver – 300 yen
Video Content
Before the eShop update this week, Square Enix uploaded the most recent trailer for Dragon Quest X which shows off in game footage, character classes, and a barrage of enemies that are making appearance in the game. If you missed out on the video and the news of the August 2 release in Japan, you can read more about it here. Square Enix also uploaded a preview trailer for today's Theatrhythm DLC.
The third and final segment of the Nintendo 3DS 3D Photo Contest is officially over and the winning pictures have been chosen. Some of these have made their way into a streaming 3D video on the eShop. Being outside of Japan does not hinder your ability to check out these pictures in 3D. Be sure to check out these cool pictures by going here.
The April Edition of the Downloadable Software Round-Up went live today. Nintendo started doing these compilation videos earlier in the year which are meant to fill 3DS users in on what software they might have missed out on during the previous month. Other than that, a new video highlighting Wario Land 3 as well as a video re-educating users about Denpa Ningen no RPG are also available this week.
Software Impressions
It's been almost exactly a month since Wario Land 2 came out on the eShop in Japan, and already gamers have access to the sequel. For the Nintendo faithful, it's quite possible to have all of the handheld Wario Land titles on one system if you're a Nintendo Ambassador (and if you don't count the Virtual Boy as a handheld). As I mentioned in a previous update, although I am quite familiar with Wario as a Nintendo character, I still have yet to spend a significant amount of time with any of his games outside of Smooth Moves on the Wii. I decided to pick this up in anticipation of beating the first two Wario games before it. Nevertheless, I did sink a little bit of time into Wario Land 3.
After the opening sequence and after you start your game, one handy thing to note about Wario Land 3 is that the story is available in either English or Japanese. For those of you out there who are not so well versed in the language, this is a welcome inclusion. Wario Land 3 comes two years after the release of Wario Land 2 on the Game Boy and Game Boy Color, and the visual leap between the two games is a noticeable one. It is obvious that this game was built specifically for the Game Boy Color, not just a quick Game Boy port. The animations are smoother, the jumping and attack actions remain solid and the story seems to be a little crazy – perfect for a Wario game! You poor souls outside of Japan will likely have to wait a while for this. Probably at least until sometime after Nintendo decides to release the first Wario Land title in your region.