Feed your little blob some jellybeans with us.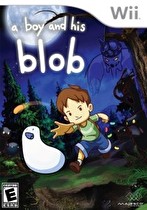 The winner of our inaugural site-wide Game Club is A Boy and His Blob, published by Majesco and developed by WayForward. The winner had to be decided by tiebreaker as it was deadlocked with Mario & Luigi: Bowser's Inside Story. The other three games (House of the Dead: Overkill, Let's Tap, and Silent Hill: Shattered Memories) were far behind. Bowser's Inside Story will return in some sort of second-chance poll in the coming months.
So go track down or bust out your copy of A Boy and His Blob now! We'll start rolling out features and coverage on the game starting in April. We're looking forward to discussing this game with you, and use this forum thread to talk about your experiences with the 2009 Wii exclusive.
You can start off, if you're curious about the game, by reading Andy Goergen's review.