Goemon, Pit, and DLC all appear this week in Japan.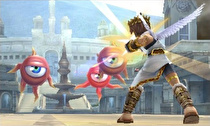 There is a variety of content available this week on the eShop in Japan. Let's take a look at what was released this week:
Virtual Console
Ganbare Goemon: Kuroufune Tō no Nazo (Game Boy) – 400 yen
DLC
Theatrhythm Final Fantasy Songs (4 tracks releasing on March 8) – ? yen
Video Content
While software releases are extremely thin this week, there were quite a few videos that went up on the eShop. Nintendo is really pushing Kid Icarus: Uprising this week as they added five new videos showcasing different aspects of the game, such as different weapons, dodging mechanics, item usage, StreetPass functionality and more. There was also a collection of television commercials (three in total) released. You can watch that below. Also be sure to check out Aaron Kaluszka's most recent impressions with the game.
Once again, Nintendo has put together a trailer showing short clips from all of the eShop and DSi Ware software that was released last month. Square Enix put together a trailer that gives gamers a brief preview of the upcoming DLC for Theatrhythm Final Fantasy. Finally, eShopers can also catch a 15 second television commerical for Hatsune Miku and the Future Stars Project mirai.
Software Impressions
At the time of this writing, I am holding out the remaining balance from my Nintendo prepaid card to put toward the purchase of the upcoming DLC for Theatrhythm Final Fantasy. I have been playing a ton of the game over the past few weeks and am itching for some new songs to try out. Although I'm saving some of my hard earned cash for Theatrhythm, next week on March 14, Game Gear games will see a release on the eShop in Japan. Shinobi is looking pretty interesting to me, so next week, please join me as I take my first step into the series and into Game Gear games on the 3DS.