Kid Icarus and Oira Jaja Maru are in the house!!!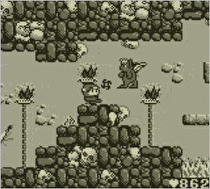 This week in the eShop in Japan, there is actually a decent amount of content that hit. Here is a look at what gamers with a Japanese 3DS can have access to from today:
3DS Downloadable Titles
3D Classics Hikari Shinwa Parutena no Kagami (Kid Icarus) – 600 yen
Virtual Console
Oira Jaja Maru: Sekai Dai Bōken – 400 yen
Video Content
The 3DS is in the middle of a very busy month, with games like Shinrei Camera coming out last week, Rhythm Thief and Labyrinth no Kanata coming out this week, and Biohazard: Revelations releasing next week. All of the developers have also been hard at work making sure that their games are exposed on the eShop either through demos, 3D streaming videos, both, or more. This week, Konami decided to put up a 3D streaming video for their upcoming Labyrinth no Kanata which shows off various gameplay elements such as the battle system, enemies and puzzle elements from the game. Sega put up a handful of television commercials featuring the upcoming Rhythm Thief. In Japan, the eShop (and the Wii Nintendo Channel) is definitely the place to go for easy advertising for both third and first parties.
Software Impressions
I decided to take a bit of risk this week. I shelled out my hard earned 400 yen on today's Virtual Console release, Oira Jaja Maru: Sekai Dai Bōken, which could roughly be translated as "JaJa Maru's Big Adventure." To be perfectly honest, I wasn't really expecting too much going into this game. For a little background on the title, it was developed by Jaleco and released for the original Game Boy in 1990. It is an action platformer that puts you in control of Jaja Maru as he is trying to get back to his girlfriend who was abducted by a demon in the opening sequence of the game. You move Jaja Maru with the control pad, jump with A button, and throw shuriken with B and the D-Pad.
The game is pretty wacky, as it has you going through the sidescrolling levels disposing of oncoming enemies. There are a total of six worlds that take you from Japan to Romania, Egypt and even America to complete your quest. One of the coolest things about the game has to do with the jumping mechanic. The longer you hold the A button, the higher Jaja Maru will jump. In some cases, there are ceilings that he will jump to and then be able to traverse while being upside down. While this game probably isn't going to win any awards for being a technological or narrative driven masterpiece, the 400 yen I put down for it was worth it.