3DS demos, Game Boy games, and more hit the eShop this week.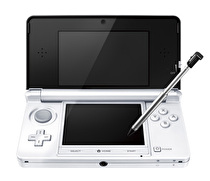 With the Nintendo 3DS firmware update today, there is quite a bit of new content available to Nintendo fans. Here in Japan, it seems like gamers are the testing market for ideas that Nintendo will potentially push into other territories. Perhaps one of the most significant of these for the 3DS was pushed out of the door this week with the inclusion of downloadable demos on the eShop. Check out below to see not only what is available as a demo, but other eShop content as well:
3DS Downloadable Software
Monster Hunter 3 (Tri) G demo - Free
Puyo Puyo!! 20th Anniversary demo- Free
Cooking Mama 4 demo - Free
Crayon Shin Chan: Uchū DE Achō! Yūjō! no Baka Rate demo - Free
Nicola Kanshū Model Oshare Audition demo - Free
Hana to Ikimono no Rittai Zukan demo - Free
Dead or Alive Dimensions demo - Free
@Simple DL Series Vol. 2 THE Misshitsu kara no Dasshutsu - Gakkō no Kyū Kōsha-hen - 500 yen
Virtual Console
Selection: Erabareshi Mono [The Sword of Hope] (Game Boy, Kemco, RPG) - 400 yen
Video Content
Despite the main focus of this week's eShop update having to do with demos here in Japan, there still are a few streaming videos that were uploaded. The Monster Hunter 3G section has the latest 30 second television commercial up and running. The upcoming Inazuma Eleven title (with two versions, Shine and Dark) on the 3DS also has a few videos up on the eShop, with one being two television commercials and the other being a little over three minutes long with tons of animated footage and some information about the game. Both versions of the title will be relatively similar, with some aspects, such as different main NPCs being in each game.
Software Impressions
Unfortunately, I have not had very much time to play many of the new demos or other playable titles from this week's deluge of content. In the next couple of days, keep your eyes peeled for impressions of Monster Hunter 3 (Tri) G, as well as for a review for Hiku Osu (Pushmo). Until then, those of you who don't have a Japanese 3DS, keep on hoping and praying that demos will make it to your shores soon!