Nearly ten years later, this fighter's soul still burns.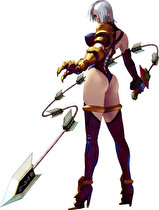 Year: 2003
Developer: Namco
Publisher: Namco
NWR Score: 9.5 (Tim Rogers), 10 (Rick Powers)
Why it's List-worthy:
Soul Calibur II is one of the most revered fighting games of all time. With its wide range of characters and fighting styles, there's a character for everyone. Whether you came for the boob jiggeling or everyone's favorite guest fighter, you stayed for the whole thing. With seven modes of single-player action, including the infamous Weapon Master mode, there's more than enough reason to keep playing with more fighters. The game really shines when two people start to play. With the "Extra" Vs. and Team Vs. players can use weapons they've acquired in Weapon Master to fight each other.
Soul Calibur II for Gamecube has been called the best of the three versions (the other two being for PlayStation 2 and Xbox) and for good reason. The controls feel smoother in the Gamecube version (at least in this reviewer's opinion) and the graphics are beautiful. You can really see the details in the characters' faces with every move they make. The music is a joy to listen to and the voice actors really got the characters down, from their war cries to their quips at the ends of battle.
I would be remiss if I didn't mention the game's guest fighter, Link. The game did him justice, giving him his Master Sword (and Bug Catching Net) and letting him loose on the world of Soul Calibur. With arrows and bombs at his disposal, he's hard to beat (not to mention his standard throw, which involves twisting an arm and slashing his opponent in the head).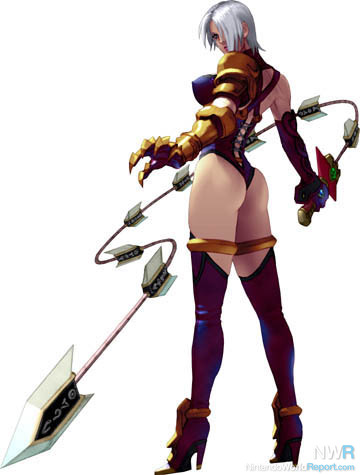 Some members of the site think she's another reason why this game makes our top 10.


Favorite Moment:
Aside from the first time when I booted up the game and watched that beautiful opening? I have to say the final time I beat Inferno in Weapon Master. It is easily one of the hardest battles I have fought and the payoff is glorious. This final boss is an all encompassing mass of flames that can mimic anyone's fighting style with their most powerful weapon. It's the most fun challenge I've had in quite some time.
Least Favorite Moment:
Anytime you have to fight 18 battles in a row for money in Weapon Master. These tasks usually require you to fight multiple battles in a row with no recovery and with increasingly high stakes. Not to say they aren't worth it, these fights are just frustrating and aren't even really necessary.
That and Raphael. I freakin' hate Raphael.
Surprised to See…
The joke weapons, in all honesty. Every character has a weapon that is just there as a joke and doesn't really do any damage. Some of them make funny noises and some of them are funny to see, like Link with a Bug Catching Net. I just never expected some of these fearsome warriors to be holding oars and brooms when they fight each other.