Kirby, 3DS downloadable games, and tons of video content appear in the Japan eShop this week.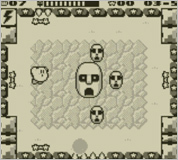 With the Nintendo Direct 3DS Conference last week, not only did Nintendo reveal new software and upcoming features for the 3DS, they also talked more about upcoming 3DS downloadable releases and added a deluge of video content to the eShop. Although all of this was just last Friday, Nintendo still has quite a bit to offer this week. Here is what became available on the eShop in Japan:
3DS Downloadable Titles
Touch Battle Sensha 3D (Touch Battle Tank 3D) - 500 yen
Nikoli no Puzzle - HItori ni Shitekure - 500 yen
Virtual Console
Kirby no Block Ball (Kirby's Block Ball) - 400 yen
Video Content
As mentioned above, Nintendo released a large amount of content from the Nintendo Direct 3DS conference last week in the form of both streaming 2D content and downloadable 3D videos. The conference in it's entirety is available to watch streaming in 2D directly from the eShop, as are videos of Monster Hunter 3G, Lost Heroes, and numerous interviews with developers, including the people behind Ikimono no Zukuri - Crea-toy (Freakyforms: Your Creations, Alive!), Mario Kart 7, and Hyu-Stone. A total of seven 3D video trailers are available to download from games such as Monster Hunter 3G, Kingdom Hearts 3D, and Harvest Moon: The Tale of Two Towns.
Of course, Itsu no Ma ni Terebi continues to get daily updates and Nintendo Video has received sporadic updates as well. Starting last week and continuing into this week, Nintendo has decided to put the Kyoto video series back onto the service. To refresh your memory, this video series shows the viewer various locations in the historic city of Kyoto and even gets input from everyday people off of the streets. They started last week with part one, while part two arrived this week. They are only available to view for a limited time, so if you have the means to watch these videos, do it! They are perhaps the best content that the Nintendo Video application has received to date.
With Kirby's Wii adventure arriving in Japan on October 27, it also seemed fitting for Nintendo to include Kirby-related content on Nintendo Video. Last week, the first half of a 3D (both stereoscopic and polygonal) animation appeared on the application, with the second half appearing today. In the animation, King Dedede is trying to find a way to best Kirby. This time, he attempts to do so by somehow giving a shrimp magical powers to freeze anything it blows it's breath on. Initially, Kirby manages to evade this pesky creature, but after it grows to the size of a building through more of King Dedede's trickery, Kirby is forced to encounter the beast and use his powers to defeat it. While these videos aren't the apex of animation or story telling, it is nice to see Nintendo representing their franchises on their video outlets.
Software Impressions
This week, I bought Kirby no Block Ball and spent a little bit of time with it. For those unfamiliar with the game, it was originally released in 1995 in both Japan and Europe and 1996 in North America. It is more or less a version of Breakout with Kirby as the ball and enemies and objects from the Kirby series littered around the stages. While not a completely original concept, this isn't necessarily a bad thing. The gameplay is simple. The player has to control Kirby by using one to four paddles (which appear on the bottom, top, and sides of the screen) to bounce him around in an effort to destroy all of the blocks in the stage. Once all of the blocks are destroyed, the player is able to move on to the next level. The game is divided into different levels that have a number of stages to play through. Boss battles and bonus stages are also a part of the game, helping to give it more of that Kirby charm.
All in all, Kirby no Block Ball is a pretty fun game and is perfect for people who want a score attack game. The gameplay is solid and the different elements from the Kirby universe helps keep the game interesting.