See how the upcoming 3DS game controls in these pictures from TGS.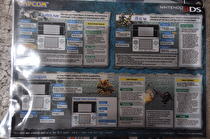 Capcom had an English manual for their Monster Hunter 3G demo at Tokyo Game Show 2011, despite lack of official plans for international release. The game was revealed at last Monday night's Nintendo 3DS Press Conference.
Monster Hunter 3G is a complex game, as demonstrated by a multiple page manual for the TGS demo. The manual describes the three demo areas (tundra, island, and volcano) and basic controls including the new touch screen controls, but not those for the second Circle Pad. It also describes camp information and has details for several weapons.
Photos of the manual follow. Click to enlarge or check the gallery below for alternative shots.