This weak category still has some good titles.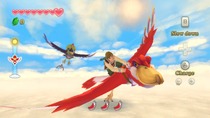 The Legend of Zelda: Skyward Sword
After finishing second to Kirby's Epic Yarn last E3, Skyward Sword returned this year to take the prize, trumping a different Kirby Wii game. The demo this year wasn't a sandbox like it was last year, showing off why the game has an emphasis on the sky, and also revealing a little bit more about the story courtesy of the boss fight with Lord Ghirahim. Check out Neal's and Jonny's impressions from E3 2011.
Honorable Mentions:
Kirby Wii, Rhythm Heaven, Go Vacation, Rayman Origins