Get your stream-of-consciousness, unfounded predictions right here!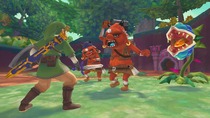 You want baseless speculation? You want to set your expectations high enough to be thoroughly thrashed? Great, then keep on reading!
Wii
Wii will have a very weak presence at E3, comprising mostly of Zelda: Skyward Sword.
Nintendo will also show off one or two other Nintendo-backed Wii titles like Xenoblade and Wii Play: Motion (even though the latter comes out the following week).
Expect third party Wii support to be dismal. There will be nothing of note outside of some annual sports titles and well-established yet still viable franchises like Mario & Sonic at the Olympics.
Nintendo 3DS
A 2D Metroid game a la Super Metroi d or Zero Mission will be announced. It will not be called Metroid Dread, but we'll still refer to it as such. Zero Suit Samus will be prominently featured.
EAD Tokyo's Mario game will be the flagship 3DS title of Nintendo's press conference. Its power-ups will not be time-limited, allowing for extended periods of exploration with the tanooki suit and fun but slightly cumbersome fireballs. If we're lucky, we may even see a hammer bros. suit.
Mario Kart on 3DS will be awesome.
Kid Icarus will not be mentioned during the presentation.

Third parties will have 3DS games in spades. Duh. Aside from prominent entries like Metal Gear Solid and at least one Square Enix RPG, we'll see some promising first-person shooters, and some quality, smaller-scale games along the lines of Meteos and Scribblenauts.
Project Café
Nintendo will show off four pieces of playable software. Two will be simple tech demos that showcase some unique aspect of the system and could potentially be included in a mini-game variety pack such as Wii Sports in the future. The third will be an early build of what Nintendo intends to be the flagship Project Café title. The fourth will be a game Nintendo is co-developing with a western developer.
One of the two games featured will be a massively online and/or "open world" Pokémon game. Online play with friends (e.g. going on missions together) will be a significant part of the game, although it will be designed such that it is also a rewarding single-player, online-augmented game. Menus will be entirely on the players' controller sub-screens, allowing for competitive or collaborative local multiplayer without screen-looking or clutter on the TV.
Nintendo will not announce a target price or release date, but may commit to 2012.
Nintendo will show a teaser reel with lots of developers saying how great Café is. Nintendo will rattle off several confirmed developers/publishers.
The vitality sensor technology will be incorporated into the Café controller.
The line on the show floor will be very, very long.