Who knew that a simple easter egg would become a character of its own?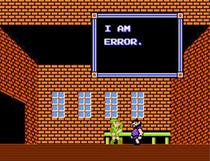 A bearded man garbed in purple and residing in a house in the town of Ruto, Error is one of the very first characters players meet in The Adventure of Link. He's also one of the first to introduce himself by name, though it doesn't seem like it at first. Proclaiming, "I AM ERROR", players might think that something has gone wrong with their game.
The unfortunately named Error does play a minor role in the game. He doesn't say anything else until Link talks to a man in Mido. After this, Error gives a hint on how to find the passage to the Island Palace. Yet, his introduction-turned-internet-meme led this minor character to become one of the most well known in all of video gaming. More recently, Nintendo's localizers even used his phrase as one of Fracktail's malfunction lines in Super Paper Mario.
The early Zelda games are infamous for poor localization, often leading to humorous or confusing situations. As a result, you might think that perhaps that translators confused Rs and Ls, as is common in Japanese, and that Error is actually named Errol. However, it's more likely that the name was intentional. You see, Bagu, who is a red palette-swapped version of Error, is Japanese for Bug. So, two of Zelda II's characters are computer programmer jokes, Error and Bug.