Sex, Wizards, and Bach are just a few of the attempts at removing the screen from the gaming equation.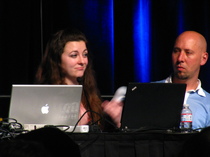 Dajana Dimovska spoke as representative of the Copenhagen Game Collective (CGC) and producer of Knap Nok Games. "Knap Nok" is a Dutch term meaning barely, Dimovska explained, which refers the CGC's happily minimalistic style of user interface. She focused on the future of multiplayer motion-controlled indie games, and their attempts to remove the TV screen from gameplay and engage players socially.
The CGC started with Dark Room Sex Game, which was spawned at an indie game jam with the theme of "taboo." The game experiment, which represents of the company's goals well with its lack of graphics, involves scandalized players watching each other while making progressively more frantic up and down motions with a Wii Remote. Players must move synchronously and rhythmically, and the social context, concentration, and embarrassment, replaces the need for graphics. Its success drove the CGC to create Knap Nok Games with a grant from the Danish film institute.
They went on to develop Tryl, a multi-player wizard spell dueling game in the vein of Harry Potter, which involves swinging the Wii Remote around and pointing it at their opponents with a rock-paper-scissors combat system. They found that sound was not enough feedback, so their prototype requires players to alternate between looking at each other and the screen. Tryl graphics are a few steps beyond what CGC usually produces, and according to Dajana, they proved to be more distracting than helpful to the kind of game play they are trying to achieve, as users are never sure when they should be looking at the graphics or each other.
Inspired by their own alcohol-induced changes to rules of traditional games, they came up with B.U.T.T.O.N (Brutally Unfair Tactics Totally OK Now), a one button party game in which players get a simple set of instructions from the monitor that require some level of physical activity, such as jumping or posing like a ninja, after which they have to run back to the controller to push a button a certain number of times in order to win. The only part of game play measured by the system is button pushing; everything else relies on a combination of the honor system and peer pressure, making it a very physical and open-ended game. B.U.T.T.O.N could be seen demoing at the Independent Game Festival booth on the Expo floor, and is available on Xbox Live Indie Games.
Dajana Dimovska sees a future of gaming in which players focus on the people in the room, not a TV screen. She closed the panel with a brief live demo of an upcoming game, Johann Sebastian Joust, in which company members holding Wii Remotes circled each other like fencers. The winner was the player who best matched his rate of movement to speed of the games music. Players could attempt to sabotage each other, but had to keep up with their own Remote's movements. Watch the demo below.