The crew chimes in on the Switch presentation and then gives their hands-on impressions of the latest Nintendo hardware directly from Tokyo Big Sight!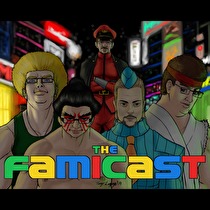 Subscribe via iTunes (Please rate and review, too!)
The Famicast is back with their first episode of 2017 with an episode focusing entirely on the Nintendo Switch! In the first half of the show, recorded just a few hours after the Switch presentation on January 13, the guys delve into the deluge of news giving their thoughts on almost everything that came out of the event and then some!
For the second half of the show, Danny, James and Ty attend a Switch event at Tokyo Big Sight and get hands on time with a select few Switch titles. With it being a public event, the guys unfortunately couldn't go hands on with the likes of Zelda, Splatoon 2 and a few other big titles (for reasons explained in this part of the show), they had a chance to try out the system in a few different configurations. (*note* Due to being recorded live via YouTube Live via a cellular connection, there are a few audio issues with this part of the show. Please understand!)
Are you excited about the Switch? What do you think about the current game lineup and starting price? Hit us up with your comments or questions via email (famicast@nintendoworldreport.com), on Twitter (@thefamicast), YouTube comments or the Talkback thread below! For video content, be sure to check out our coverage of the event in the videos below! Here's to 2017!
This podcast was edited by Danny Bivens and James Charlton.
Music for this episode of The Famicast is used with permission from 8 Bit Weapon. You can purchase their music and shirts from their website 8bitweapon.com
Additional music for this episode of The Famicast is copyrighted to Nintendo, and is included under fair use protection.
The artwork for the show was designed by Tony Losoya, follow him on Twitter @Tony_Losoya