Here is your bumper edition of the Famicast to last you until the new year!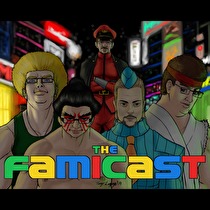 Subscribe via iTunes (Please rate and review, too!)
It's time to try and put the mess that was 2016 behind us, and what better way than with an extra long episode of the Famicast!
New Business starts us off with a typically varied spread. Danny plays noted train/god dating simulator Megami Meguri, James continues his love/hate relationship with Nintendo mobile games, Ty technically plays a Wii U game with Shantae and Sairus aggressively cleans up his unfinished 3DS library.
For news, we delve into the latest Switch details and rumors - Gamecube Virtual Console games? Detailed Switch specs? The first Switch exclusive game? There's plenty to talk about!
It wouldn't be an end of year show without a look back at our playlists for the year. We all check our play times on our various Nintendo systems for 2016 and compare our leading games. Let us know in the comments what your top played games this year were too!
Since it's Christmas, the Famicrew are also giving out a bunch of amiibo presents this year! For your first chance, simply head over to twitter, follow the @thefamicast and Retweet this tweet for a chance to enter. Your second chance is in the show itself! Tune in to hear our listener question, then email your answer to famicast@nintendoworldreport.com. Send your answer in by January 6 for your chance to win!
Finally, James is also back with another Famicast quiz - this time talking about console launches throughout the ages. As always, you at home can join in by going here.
As a bonus, tune into the after show for a round table as most of the Famicrew talk about the recently released Rogue One: A Star Wars Story. Does it have anything to do with Nintendo? ...well no, but we're all Star Wars nerds and you probably are too, so we hope you enjoy!
This podcast was edited by Danny Bivens.
Music for this episode of The Famicast is used with permission from 8 Bit Weapon. You can purchase their music and shirts from their website 8bitweapon.com
Additional music for this episode of The Famicast is copyrighted to Nintendo, and is included under fair use protection.
The artwork for the show was designed by Tony Losoya, follow him on Twitter @Tony_Losoya