Now remastered for your listening pleasure!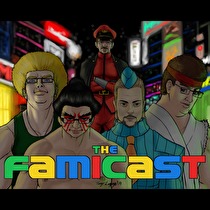 Subscribe via iTunes (Please rate and review, too!)
It's a triple Japan podcast crossover, all for the kids! Joining JC and Ty for this special show was Cheesemeister from the Red Sun Gamer podcast and Twitter-based Nintendo Direct translations, plus John Davis previously from Q-Games' and the Pixeljunk Radio podcast.
After some hot new business, the guys reminisce on the first Japanese consoles they bought, plus a look back at the history of Nintendo consoles in Japan. Naturally, at some point Famicom karaoke games come up. The show ends with the Famicast's most popular* feature - Fake or Real! How will our special guests do at their first attempt? Ty wraps things up with what he does best - Scrub Quotes! He collated an all time top ten list for your enjoyment and/or embarrassment. Thanks to everyone who listened in live and donated to Child's Play, we had an awesome time recording it, but it was all for the kids so keep donating if you can!
This podcast was edited by James Charlton.
Music for this episode of The Famicast is used with permission from 8 Bit Weapon. You can purchase their music and shirts from their website 8bitweapon.com
Additional music for this episode of The Famicast is copyrighted to Nintendo, and is included under fair use protection.
The artwork for the show was designed by Tony Losoya, follow him on Twitter @Tony_Losoya