Come join your friends old and new for a celebration of everything Famicast!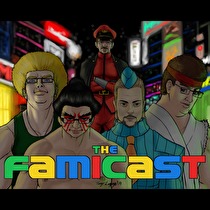 Subscribe via iTunes (Please rate and review, too!)
Happy birthday to us! That's right, the Famicast has turned 50, a mediocre number compared to literally all other NWR podcasts, but a big achievement for us nonetheless! This episode is a celebration of everyone's favorite Japanese Nintendo podcast (by default, there are no others), so come along and join us for the ride!
New business starts with the Japan eShop exclusive, Hako Boy. Listen to fan-favorite Minoru talk about this awesome puzzle platforming game from HAL. Danny chimes in with some early impressions of Final Fantasy 3D. That's Final Fantasy 1, in 3D. Find out if it's hardcore enough for Ty "git good" Shugart to consider playing. Speaking of which, has Ty finally done his 8-player Smash tournament? Well, kind of. But he has a few other crazy party games to recommend, too! JC wraps things up with some quick impressions of Metroid Prime Trilogy and a couple of late-to-Japan eShop games. How he paid for them MAY shock you!
News turned into a mini-feature on the end of Club Nintendo. The crew looks back on the great, and not so great stuff to come out of the service. Did Japan really come out on top?
The main feature of the show is a huge look back on the inception, and on-going craziness behind the Famicast. The crew shares stories on what it was like being on the show, their favorite moments, plus loads of behind-the-scenes revelations that are sure to interest fans. Or bore them to death. Included is an interview with the resident Fami-artist Tony Tosoya, who shares his inspirations and love of Japanese games and art.
Just about the time you are ready to pull out your headphones and take a hot spring bath, Danny surprises everyone with a bonus segment with regular guest Josh Polak all about collecting figures and toys. These aren't kids toys, these are man toys. Amiibo (ironically) included.
So set aside a spare 3 hours, and get ready to go back, back to future. No, wait. I meant past, or present. Just enjoy it!
Thanks again for your continued support and as always, please understand!
This podcast was edited by Danny Bivens.
Music for this episode of The Famicast is used with permission from 8 Bit Weapon. You can purchase their music and shirts from their website 8bitweapon.com
Additional music for this episode of The Famicast is copyrighted to Nintendo, and is included under fair use protection.
The artwork for the show was designed by Tony Losoya, follow him on Twitter @Tony_Losoya