Send out the holidays the right way with titans, bikes and KFC!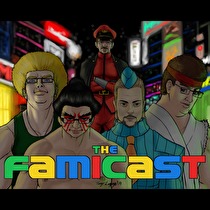 Subscribe via iTunes (Please rate and review, too!)
Holiday season a go-go, baby! The Famicast is here with the last episode of 2013 and there is definitely plenty to talk about. First up Danny and Tim talk about the recently released Attack on Titan game (Shingeki no Kyojin: Jinrui Saigo no Tsubasa) on 3DS. If you're a fan of the anime or have any interest in swinging around in-game locales and slaying giants, you should definitely give this a listen! Ty continues on with going back to a neo-classic, Resident Evil 4 on the Wii as well as some Assassin's Creed III talk. A wild Daan Koopman also appears on this episode talking about the anime inspired third person action title Gaist Crusher and the Ark System Works title (oh no…), Swords & Darkness. Even though the next generation of console gaming has yet to hit Japan, Danny and Ty manage to nab an Xbone and a PS4 and talk about their initial impressions with the consoles.
On top of the news updates, the guys also talk about some of the best games on Nintendo platforms that hit Japan in 2013. There are a wide range of titles that are talked about, some of which that might sound familiar. Biker Rider DX 2, Monster Hunter 4, Dragon Quest VII and Yakuza 1&2 HD are in the discussion…well, all of those EXCEPT Yakuza and more!
So sit back, grab your bucket of KFC, or if you're lucky, turkey legs from Burger King, and enjoy the episode!
Editors note: There were some slight issues with some of the audio. I did everything I could to make sure that it is listenable! Sorry about that and enjoy!
This podcast was edited by Danny Bivens.
Music for this episode of The Famicast is used with permission from 8 Bit Weapon. You can purchase their music and shirts from their website 8bitweapon.com
Additional music for this episode of The Famicast is copyrighted to Nintendo, and is included under fair use protection.