The Famicrew talks about the few and the proud Nintendo titles that appeared at TGS 2013, the future of the Famicast and more!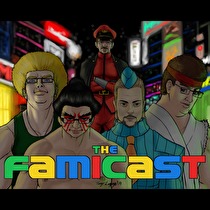 Subscribe via iTunes (Please rate and review, too!)
It's that time of the year again. Tokyo Game Show 2013 is a thing that happened and the Famicrew has your back with impressions of games that were at the event! The show kicks off with Danny and the Fami-father, James Charlton, as they talk about the games that Danny got to play on one of the business days. Listen in as the guys discuss Theatrhythm Final Fantasy: Curtain Call, Gaist Crusher, Hatsune Miku: Project Mirai 2 and more! Recorded in our studio in Chiba prefecture (aka James' apartment), the guys had to keep it quiet to not wake up the resident baby, so we apologize for the segment being a little quiet! There is only so much enhancing we can do to the audio!
The second segment comes straight from the show floor on Saturday, September 21, as Danny catches up with Ty and talks about Killer Instinct and other general craziness from the show floor. From there, the show ends with Danny and Daan talking about Monster Hunter 4 and a few bits of news that hit throughout the month of September. You will also want to be sure to stick around to hear a special notice about the future of the Famicast.
The music segments used throughout this episode (sans one, which is the theme for Jago in the new Killer Instinct) are from a live concert that was held at TGS by Falcom's JDK Band. The track is from Ys Book One and titled, "First Step Towards War." You will also want to check out the AWESOME Famicast poster that Famicast fan, Tony, submitted (which you can see on this page and in the "Future of the Famicast" chapter of the show). Famicast a go-go, baby!
Episode Links:
TGS 2013 - Falcom's JDK Band - First Step Towards War (Ys Book One)
This podcast was edited by Danny Bivens.

Music for this episode of The Famicast is used with permission from 8 Bit Weapon. You can purchase their music and shirts from their website 8bitweapon.com

Additional music for this episode of The Famicast is copyrighted to Nintendo, and is included under fair use protection.