The stars align, the Triforce descends from the clouds, and your friendly Famicast makes a triumphant return for its second episode!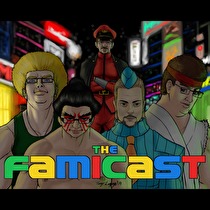 Subscribe via iTunes (Please rate and review, too!)
In this episode of the Famicast, James Charlton, Matt Walker, and Danny Bivens talk about their experiences during the huge earthquake that rocked Japan last month. The NWR Japan team also lets you know a few different ways how you can support relief efforts.
On a related note, the guys will inform you about the games that are being delayed in Japan due to the quake. Upcoming game releases for the Nintendo 3DS and Wii are also discussed, including the releases of Chrono Trigger and Mega Man X on the Japanese Virtual Console!
Next, the Famicast crew tackles some great questions from the forums and via email, covering the Japanese arcade scene, retro gaming, game themed bars, toilets, and love hotels. Listen in to learn more about Japanese culture, toilets, and gaming! We love to receive your questions, so please, keep them coming!
Finally, we wrap up the show with another competition that will not only give you a chance to win a cool prize but also learn and/or use Japanese. Listen to find out how you can be a winner!
If you have any questions or comments for the Japan crew, stop by our forum thread or email us directly. We will try to answer all of your questions, with the best questions appearing on the show.
Famicast a go-go baby!
This podcast was edited by James Charlton.
Music for this episode of The Famicast is used with permission from 8 Bit Weapon. You can purchase their music and shirts from their website 8bitweapon.com.
Additional music for this episode of The Famicast is copyrighted to Nintendo, and is included under fair use protection.