The top game might not be surprising, but maybe the other 29 are?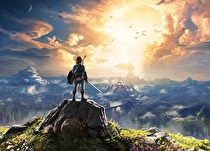 For the past few years, I have kept a running tally of what my top 20 or so "Games of the Year" are. It first started as a way to keep tabs on what I played but has since evolved into something I pull out and labor over multiple times a year. This year, the list got very hard to handle as the Switch onslaught of indie games happened. At a certain point, I had to accept I wouldn't get to play some games in a way that would give them a fair shake on my list.
I've put together a Top 30 list, filled only with 3DS and Switch games (I do own and play other systems, but my Xbox One/PS4 2017 GOTY list would be like "Madden and probably like two other games"). Since if I waited to do full write-ups on all of these games, I'd be here forever, I tried to keep 30-21 close to a sentence, while 20-11 get a few sentences and 10-1 get a few paragraphs. Feel free to disagree with me all you want. I have weird tastes. Here we go...
First though, some Honorable Mentions! I'll call out Rocket League, Axiom Verge, and VVVVVV, all games I played and adored in the past. I played all three of them on Switch in 2017 and adored them just the same. Also to some games I have yet to play or didn't play enough to have a definitive opinion on them yet: Fire Emblem Warriors, Kingdom New Lands, Stardew Valley, The End Is Nigh, Poi, The Sexy Brutale, and Death Squared. I think I'd like those games a lot if I played more of them, but time ran out for me. Anyway, onto my list...
30. Sonic Mania
This is the first 2D Sonic I've earnestly enjoyed in like 20 years. It's got issues, but like, that Chemical Plant Zone boss. That music! That style!
29. FIFA 18
I can't play friends online, but that's not how I play sports games anyway. This suits my soccer game needs well, giving me a solid iteration in the series with a franchise mode. Go Red Bulls!
28. Mom Hid My Game
I beat it in an hour or so, but it's super dopey and really funny. I'll remember it all for a while.
27. Yono and the Celestial Elephants
The puzzles are quaint and simple, but the art's adorable and the philosophical ponderings are surprisingly deep.
26. Lovers in a Dangerous Spacetime
A weird co-op shooter that makes players work together in a ship trying to save bunnies and stuff. It's not my favorite co-op-heavy game of the year but it's damn good.
25. Floor Kids
One of the most distinctive rhythm games I've played in years. I'm mad I didn't make the comparison, but this is basically the Tony Hawk's Pro Skater of breakdancing games. It's got creativity and style for days.
24. Skyrim
I played a chunk of Skyrim in 2011 but didn't get that into. Turns out, having it on the go made a big difference. This game's great.
23. Mario Kart 8 Deluxe
I love the addition of Battle Mode and the new mode Renegade Roundup is awesome. While I still long for a better single-player, this is a fun game.
22. Overcooked
Weirdly, I played this primarily in single-player and that's how I liked it the most. Managing my two dudes and trying to figure out the most efficient strategy for each level was a lot of fun. Multiplayer turned out to be way too frantic and stressful for some of my friends.
21. The Flame in the Flood
The soundtrack is responsible for half of my affinity for The Flame in the Flood, but the other half is the really awesome gameplay that's essentially "The Oregon Trail but you're a girl with a dog floating down a river."
20. Wonder Boy: The Dragon's Trap
What still blows me away about Wonder Boy: The Dragon's Trap is that it's basically untouched from the original release. If I played this when it was originally released, my brain might be on the floor with how freaking good this game is. I'm so glad this game got remade because now I know that Sega and Westone made some hot fire on the Master System. Now I'm just sitting here wondering if I want to double-dip on the physical release.
19. Blaster Master Zero
I only ever beat the original Blaster Master once and it was on the strength of a Game Genie, so a modern remake that made that original game less cruel sounded fantastic. It was. This is an awesome game that plays up the early Metroidvania magnificence of the original. The added character DLC made it even more interesting. I hope Inti Creates gets to make a sequel.
18. Graceful Explosion Machine
I'm not that good at shoot-'em-ups, but every now and then, I get really into one. It happened with Geometry Wars back on the Xbox 360. It happened with Resogun on the PlayStation 4. It also happened with Graceful Explosion Machine. This game is a visual splendor and has emboldening weaponry that, when used to perfection, makes you feel like a golden god. Perfection is hard in this game, but it's possible. S ranks make a body feel good.
17. Xenoblade Chronicles 2
I haven't finished Xenoblade Chronicles 2 yet, but I've been enjoying it a ton so far as I slowly whittle away at it. The combat is a series best, even if it is needlessly complex in spots. The story's good enough and the world is joyous to explore. I do wish it had exploration that was more free, a la Breath of the Wild, and the map was less terrible. The other aspects make up for it, though. It's just fun to explore this world and fight these fights.
16. Splatoon 2
I had a ton of fun with Splatoon 2, but it's sunk a little lower on my list because, outside of Salmon Run, it's just more of the same. I still enjoyed the single-player and it's unequivocally better than the first one. The multiplayer is better than the first, but it's just like the first one in a lot of ways. The major addition, Salmon Run, is still weirdly limited. Salmon Run is awesome and I hope future Splatoon games have more ambitious modes like it.
15. Jackbox Party Pack 4
I've heard some flack being thrown out at Jackbox Party Pack 4. I gave it a highly positive review, probably saying some hyperbolic nonsense like "best Jackbox ever!!!!!" and - dammit - I stand by that. It's not as electric for streaming as 3 was, but for local play, I can't think of a more well-rounded collection of games. It's got personal, smaller group games like Monster Seeking Monster, and it's got massive, limited input games like Bracketeering. It's got something for everyone, except for a dynamite drawing game. Time has not been kind to Civic Doodle in my circles.
14. Mario+Rabbids: Kingdom Battle
Full disclosure, I haven't finished this, but I absolutely loved what I played. There's a good chance that if I spent more time with this, it'd be higher, but man it's midway through January and I need to give up the dream I'm going to finish games I haven't played in several months. Maybe someday...
13. Ironcast
I wish it was a little longer, but Ironcast's turn-based puzzle roguelike fusion pushed the right buttons for me. It's roguelike Puzzle Quest and I dig that.
12. Gorogoa
A late addition, but an earned one. Gorogoa is unlike a lot of other games I've ever played and the puzzles are mind-boggling and engrossing.
11. Shovel Knight: Specter of Torment
I still prefer the original campaign (arguably a top 5 game of the past decade for me), but Specter of Torment is far better than the previous Plague Knight campaign. It also helps that the story's filled with the trademark emotional beats that work so well with me in Yacht Club's games.
10. Snipperclips
The moments in Snipperclips when I played co-op with a friend were incredible and hilarious. I want more games to be like Snipperclips in that respect. That's really all I have left to say about Snipperclips. I want more cool dopey games like it. That's it.
9. Star Fox 2
I'm still shocked Star Fox 2 is this high on my list. I expected nothing more than a curio, but what I got was a Super Nintendo game that was bold and daring that I found held up far better than I could have ever dreamed. The vaguely roguelike design works very well, with ample strategy in how you attack different levels and challenges. Sure, it's dated in some respects, but it's just so damn cool. Like how it's got weird proto-3D dungeons. How the music is dope as hell. How it's got six pilots and they're all kind of awesome. Star Wolf's there and the dog fights are cool. Star Fox 2 is a weird game - still very much a historical curio - but it's also awesome.
8. Dragon Quest VIII
Dragon Quest VIII is the masterpiece RPG I somehow skipped for a decade. My affinity for Dragon Quest didn't fully blossom until I played Dragon Quest V on DS in 2008, so I missed DQVIII the first time around on PlayStation 2. I didn't even expect too much from this re-release because I was overwhelmed and disappointed with the immense, overwrought scope of Dragon Quest VII. This game quickly jumped up to be one of my favorite entries in the series, filled with great characters, a vibrant world, a versatile skill tree, and a lot of nice 3DS version touches. This game rocks.
7. Tumbleseed
In the face of all the Nindie love and success out there, the fact that Tumbleseed seems to have underperformed is the worst of it all. While roguelikes have become a regular feature in the Switch eShop milieu, this one brings a crazy new control scheme and a unique style. It's a self-proclaimed "rolly roguelike" where you guide a seed by tilting a bar at the bottom of the screen. It's punishing, with holes and enemies at every juncture, but the soothing music makes it more relaxing than frustrating. Before the friendly 4 Peaks update, I barely cracked the third of four sections regularly but had already dropped a dozen hours into the game. I adored it. I played a few runs during lunch for a week or two straight. It infected my dreams in a pleasant manner, making my sleepy mind idly think of the serene environments and charming world. The 4 Peaks update, which I still intend to revisit in full one of these days, gives the game a little bit more of a forgiving progression in addition to the original punishing roguelike structure.
6. Ever Oasis
Ever Oasis is the little 3DS game that shouldn't have - a late-gen original title that presumably sold horribly and got ignored because it came out at a bad time. That didn't take away from the fact that it's my favorite 3DS game of 2017, proving that Grezzo can do more than Zelda remakes. It blends that developer's triumphs, whether it's the Zelda-like bits of exploration or the Mana-like bits of multi-character action-RPG combat. It also has this weird Animal Crossing-lite town growth portion that feeds into the exploration and the combat. I love this world. I love these characters. With how many games I try to play and the limited amount of time I have, I'm very much a "roll credits and stop" guy. With Ever Oasis, I dropped about five or so hours to get close to 100%-ing this delightful adventure, mostly because I was having such a good time interacting with the different elements.
5. Battle Chef Brigade
The art is what captured my attention first. It looked like a dang cartoon. From there, the concept grabbed me. Fantasy Iron Chef, mixing side-scrolling combat and match-three puzzling. After that, I knew I had to check this game out. The two ideas that caught my eyes lived up to their promise, as the art was indeed gorgeous and the blend of gameplay styles worked perfectly. Some might say it was mixed together like a fine cuisine.
What wound up making Battle Chef Brigade so exemplary for me is that all of the mechanics and art and ideas came together holistically, topped off by a charming, engaging story. I'm pretty sure the team at Trinket Studios still owes more content because of the original Kickstarter success, which is awesome because if Battle Chef Brigade becomes their Shovel Knight and they have to keep working on stretch goals and updates for a while, it means I'll have more Battle Chef Brigade to play. That's rad because I love this game.
4. Super Mario Odyssey
Super Mario Odyssey definitely taught me one thing: nothing will ever top Super Mario 64 for me. That's not to knock Odyssey - it's 4th for a good reason - but the gap between Breath of the Wild and Odyssey is a lot wider for me than I expected. This is top-tier 3D Mario for sure, but where Odyssey shines brightest is in a few remarkable kingdoms. The breadth is overwhelming and excellent, but the truly sublime moments are split into a few areas in my eyes, mostly New Donk City and the Kingdoms surrounding the finale. The rest is good, but I wish more Kingdoms were as expansive and engaging as New Donk was.
I'll refrain from saying more about the later Kingdoms, but the run from around Bowser's Kingdom to the early post-game was just a series of peaks that warmed my soul. I'm not as into the boss rush segments of the post game, but I'm still working my way through the other post-game unlocks. Even if Mario 64 holds an impassable spot in my gaming heart, Odyssey ain't far behind.
3. Metroid: Samus Returns
The last time Nintendo remade a Metroid game, it was probably the best Metroid. The last time MercurySteam tried to make a Metroidvania, it was subpar. Those were the conflicting concepts going to head in Metroid: Samus Returns. Fortunately, Nintendo's guiding hand helped MercurySteam make an excellent Metroid remake that might not hit the highs of Zero Mission, but it livened up the previously weakest Metroid game.
The melee counter helped make combat slightly different and the Aeion abilities added the equivalent of a Super Guide mode as well as some new puzzle possibilities. I do wish Samus Returns added some new power-ups, but the glory of hunting down Metroid in a labyrinthian world is as good as ever here. I hope Metroid sticks around again and more so, I hope MercurySteam keeps working with Nintendo.
2. SteamWorld Dig 2
I only finished SteamWorld Dig 2 earlier in December, not because of anything other than being busy with other games. I had a great affection for developer Image & Form, primarily because SteamWorld Heist is a masterpiece and the folks there I've interacted with are genuinely nice human beings. Despite all that, I still think the first Dig is just an okay game, so my hype for Dig 2 was lessened.
Then I played SteamWorld Dig 2, and a lot of my complaints about the original washed away. I didn't like how Dig 1 was so focused on random generation, and the fact that Dig 2 had plenty of deliberately designed areas (and wonderfully designed areas) enforced the depth and majesty of the controls and abilities. It did retain the better elements of the original in a more expanded way. The upgrades and boosts unlocked and acquired offer so much variety and progression. The moment when I got the jet pack was glorious, nailing that wonderful Metroid feeling of becoming an absolute powerhouse.
Even if I never find every last cave, I've adored my hours with SteamWorld Dig 2, and whatever Image & Form does next, I will wait for in gleeful anticipation.
1. The Legend of Zelda: Breath of the Wild
This time last year, I was afraid that Breath of the Wild might disappoint me. It had been very long since its initial reveal and while the E3 2016 showing was fantastic, I was uneasy after seeing the gameplay segment at The Game Awards 2016. Would Breath of the Wild live up to the expectations?
As evidenced by the fact it's my Game of the Year, yes, yes it did. The Legend of Zelda: Breath of the Wild is the first open-world game I've ever truly loved. The way systems interact. The way the world looks like a freaking painting at various vistas. The elegance. The mystique. The charm. Breath of the Wild is pure gaming magic writ large. While it's not without its flaws (going for 100% completion of Korok Seeds seems like hell; the inventory can be rough), it does so much right that any complaints are negligible for me, even more so nine months later.
My affection for Breath of the Wild was put to the test when my Switch died in August and I lost my 70+ hours or progress. I didn't go back to the game for quite a while, but when I did, the fungibility of its design shimmered. Instead of going right, I went left, and challenges I faced late-game were now early-game trials. It felt new and fresh despite being the same gameplay in similar environments. It has a slow pace, but the pace is beautiful. I want to take my time with this game because it's an enjoyable world to spend time in.
I tried very hard to not be hyperbolic when I first played Breath of the Wild, but at this point, I have to admit the reality. The Legend of Zelda: Breath of the Wild might be one of my favorite games ever made.