We ponder the upcoming 3DS game and what it could (or couldn't) be.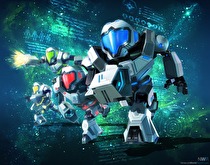 The vitriol around Metroid Prime: Federation Force is often overwhelming. From the moment the game was announced, it's hard to discuss the upcoming 3DS game without the conversation devolving into the negativity that surrounded it since its debut. Now that we know more about it and Federation Force is due out within the next few months, we're going to make an attempt to talk about what it could be than lamenting about what it isn't. To that end, we still don't know a lot about the specifics, so we came up with a few questions and tried to speculate on the answers.
1. Will there be a good single-player experience?
All we really know for sure is that there is a single-player mode. Details on what this will entail are scarce, but Nintendo's official pages for it mentions tackling missions solo. Whether this will be a solitary experience, use computer-controlled bots, or entail some Tri Force Heroes-esque player-swapping, we don't know. Something tells me, though, that the single-player mode won't be hiding some kind of Samus Aran adventure; it'll just be the regular multiplayer levels with some tweaks.
2. Will there be voice chat?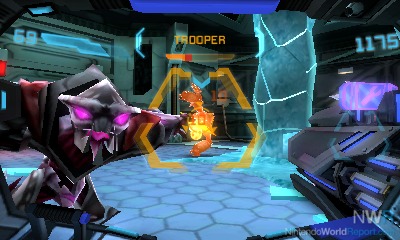 With how Nintendo has handled voice chat over the past few years, I sincerely have no idea whether or not Federation Force will have voice chat. Maybe part of the reason the game is reportedly slower paced is so voice chat can be reliably added in. To me, Federation Force has to have voice chat. After seeing the struggle and poor reception of Tri Force Heroes last year, hopefully Nintendo will learn from their past multiplayer-focused 3DS game and make sure that voice chat makes the cut. I mean, after all, Metroid Prime Hunters literally came out more than a decade ago and it had voice chat. Federation Force has to have voice chat, right?
3. What is Samus Aran's role?
We saw Chibi Samus in the footage from the last Nintendo Direct in addition to what seems to be her ship taking off during a level. We also know that the tech from Samus' power suit is what is being used for the mechs the player characters are using. Aside from that? It's all conjecture. The hopeless optimist in me hopes for a bonus mode at the end where you control Samus through some of the previous environments cleaning up the Federation's mess or something. The realist in me sees the role of Samus being far more understated. Maybe she shows up to help at a few points? Maybe there's a tease for a future Metroid game with Samus at the end? Of course, maybe she just has a glorified cameo that is the equivalent of something like Bill or Katt Monroe in Star Fox games. Who knows.
4. Blast Ball is a side mode. Will there be other side modes?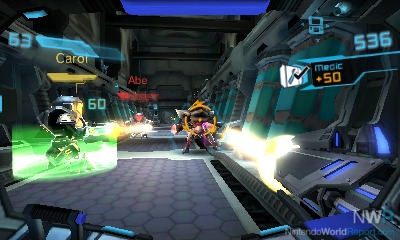 The jury's still out on that, though Kensuke Tanabe promised that they'll explain more about Blast Ball in the future. I like the idea of the Federation's training just being a bunch of weird sports games. Maybe we can also have Grappling Hook Baseball and Metroid Tennis. My best guess is that Blast Ball will just be a lone side mode with maybe another option for a rudimentary deathmatch mode.
5. Will there be a good online experience?
If I could answer this accurately, I'd start reviewing games before they're out because I'd be a prophet who can tell you the quality of a game months before release. Maybe they'd build a statue at a PAX or something to commemorate "the dude who knew the finale to Zelda Wii U before Nintendo even made it."
But seriously, I hope so. Federation Force is a game that will live and die on its online modes. Outside of the requisite "runs smooth," the game needs to feature easy communication and fun gameplay. If Next Level Games pulls off an online mode as novel as the one they included in Luigi's Mansion: Dark Moon, I think there's a good chance that Federation Force turns into a surprisingly excellent multiplayer experience. Even if, like Tri Force Heroes, Federation Force is a blast locally, if it doesn't work well online, it will, like Tri Force Heroes, be widely ignored and dismissed. Unfortunately, the reports from various demos doesn't seem to echo that. This might be the kind of game that you need your own copy to fully appreciate (like how I've disliked nearly every Monster Hunter demo I've played but really enjoy the main game) as you build up your character's arsenal on your own time.
We will find out the answers to the questions over the next few months, as Metroid Prime: Federation Force is due out in late spring in North America (so like May or June?) and June in Japan.