Inspired by her design in Metroid Prime 2: Echoes.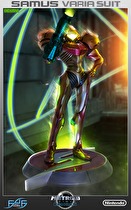 A new statue based on the Varia Suit Samus model from Metroid Prime 2: Echoes is now available for pre-order from First 4 Figures. Two versions of the 1/4 scale statue are being produced.
Both versions are 20 inches tall and have Samus standing on the S logo from the series. The Exclusive version, only available from the First 4 Figures website, has many LEDs built into the figure to give it an authentic from the game look and costs $429.99. The standard version of the statue lacks the LEDs found in the exclusive version and costs $384.99. Both statues will have their edition size determined in two weeks and are scheduled to ship in Q1 2017. Those interested should get their pre-orders in now for low numbers and to guarantee availability.
If you're looking for a discount then you can take advantage of two different coupon codes. The code VARIAEX30 will take $30 off the price of the Exclusive version, and the code VARIAREG20 will knock $20 off the price of the standard statue.
Varia Suit Samus is the second in the Metroid Prime 1/4 scale line and will go nicely with the previously released Light Suit Samus statue. People who have been fans of First 4 Figures for a long time will notice that they released a smaller scale Metroid Prime version of Varia Suit Samus back in 2007.