Including a drop-dead date for the NX.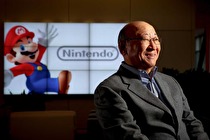 The full translation of Nintendo's shareholder Q&A from February 2 has released, and with it some interesting statements about the future of Nintendo. With this being Kimishima's second rodeo, he's settling into a groove of simultaneously saying nothing and everything.
Reading through the Q&A, there are four major takeaways.
1: Something NX is launching by March 31, 2017.
"To achieve Nintendo-like profits, one important factor will be establishing a solid launch for our NX and smart device businesses."
"The question was to pick one area with which we will be able to achieve Nintendo-like profits, but I would like to suggest two areas. One area is our NX business, and another is our business for smart devices"
In two consecutive questions, Kimishima is asked about the company's desire to return to "Nintendo like profits". Despite the operating profits this year, the statements indicate that next year will do gangbusters on the back of Miitomo and other smartphone apps/games plus the NX launch. If the plan is to have a "solid launch" for NX during the next fiscal year, we know the last possible date it can launch: March 31, 2017.
Realistically, that's not going to happen. (Though March 31, 2017 is a Friday, Nintendo's traditional release day…) So much of the game industry – especially in its largest market, North America - has been focused on holiday shopping that Nintendo would be insane to launch hardware in winter as they did with the 3DS and New 3DS.
Speaking of the 3DS…
2: The 3DS going gangbusters this year is intentional. But that's probably going to be it.
"…we have sold over 54 million units of Nintendo 3DS hardware, but it would have been possible to sell more software if all 54 million systems were in frequent use"
The "no Pokémon, no Smash" sales slump for the 3DS has been well documented in all of the sales announcements. In a post-smart device world 54 million is fair - a lack of realistic competition helps in this regard - but for Nintendo, who has a wildly underperforming console to go with it, it's a problem.
Outside of Japan, Nintendo is releasing a lot of 3DS software designed to accomplish the goal of releasing software "that makes people want to play," and "create an environment where people around you are playing." There also seems to be a major unannounced 3DS title that would fit in this regard (hello Pokémon RPG!). Japan is seeing some of these titles from 3rd parties with the strength of Yo-Kai Watch and Monster Hunter Stories, but a lot of the things the West is seeing already came out over there.
The other key factor is a focus on women, which worked well in Japan and parts of Europe, but didn't play as well in North America. Nintendo expanding their focus in North America this year may point to something coming across the pond.
3: Nintendo is aware they need to get younger
"For example, due to changes in our industry, the proportion of young consumers who are first experiencing games on our systems has been falling."
The average Nintendo buyer is skewing older, while smart device gaming is becoming the gateway for many younger people into games and largely, they're fine with that. This presents a long term problem for Nintendo, which is why they're aiming to expand the reach of the characters. The Q&A mentions electric toothbrushes and apparel, but the larger plans (such as the Universal Studios deal) won't bear fruit until at least fiscal 2017 (April 2017 – March 2018).
It's not just the consumer base skewing younger though, it's the developers as well. The runaway success (comparatively) of Splatoon combined with the reorganization has allowed younger developers to shine. Whether it's having Yoshiaki Koizumi as the face of the Mario franchise instead of Miyamoto, or the emphasis on "garage" development and getting the voices out there, a lot of the older guard is going to be standing down in the years ahead.
The cats seemed to indicate that there was a major unannounced or even unrumored Wii U title in development to come out soon; if that's the case, it's probably going to be from fresh faces and have high youth appeal. They do want to have a Wii U game with appeal similar to Splatoon or Super Mario Maker, so who better to design it?
4: Eventually, a new Nintendo property will debut on mobile
"We are also considering developing titles for smart devices that are not at all tied to any games on our existing dedicated video game systems."
The focus is on Miitomo and the four other games coming out this coming fiscal year, which from appearances will use existing Nintendo property. The shareholders want New Super Mario 3 to be mobile, we'll probably get a Kirby or Samus or Isabelle thing, the circle of life goes on.
However, Nintendo puts out new franchises more than people realize (see: anyone who thought the last franchise before Splatoon was Pikmin), so it's entirely possible that a new character or game will emerge from the mobile plan if it's a contributor to Nintendo's bottom line. The younger developers (mentioned above) will be able to create something new and have it work in the Nintendo family.
Now, whether something from those games makes it to Super Smash Bros for the systems after NX or not, that's to be determined. But it could be something to watch for.