The NWR staff chats about the fourth wave of Amiibo.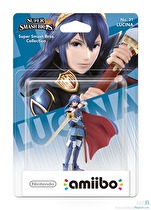 Today is a big day for Nintendo fans as the fourth wave of Smash Bros. Amiibo figures are available in North America. If you're lucky, you can go get Pac-Man, Charizard, Wario, Lucina, Robin, Greninja (only at Toys"R"Us), Jigglypuff (only at Target), Ness (only at GameStop), Inkling Boy, Inkling Girl, Squid, and Silver Mario. If you actually got all of those, pat yourself on the back. Maybe give your mom a call; you might not have been able to call her while you were waiting in front of your computer for pre-orders to crop up.
We decided to talk amongst the staff about our feeling about Amiibo. Enjoy!
Justin Berube: The Amiibo craze doesn't seem to be slowing down. I woke up very early this morning planning to head to my local Target to get a Silver Mario Amiibo and a Splatoon water pistol. Before I even showered, I checked online and saw that Silver Mario was available from . I quickly placed my order and secured one of the two remaining Amiibo I needed (Greninja being the other).
So I arrived at Target about an hour and a half early and ended up being 15th in line. I arrived at the same store a few months earlier for the Wave 3 launch and was fifth in line. Even though this line was mainly for Amiibo, I really only showed up for the Splatoon water gun.
So I went along for the ride and figured I'd secure myself an extra Jigglypuff in case I needed to trade for a Greninja since it's the only Wave 4 Amiibo I hadn't yet secured. Luckily I got one, but my Target didn't get a single Splatoon water pistol. So I really woke up for no good reason.
Luckily I have established an Amiibo support team. A friend of mine on the other side of the country told me his Target had a bucket full of the squirt guns. He snagged an extra for me while he was out on the Amiibo hunt. Also my father happened to be passing a Toys"R"Us on his way to an early lunch. Long story short, my Dad saved my ass and scored me a Greninja. I would have gone myself, but I actually had to be at work.
So is Amiibo hunting getting any better? I'd say no. It still takes extreme dedication, luck, and a team of trusted people helping out in order for anyone secure a complete set. It's a very frustrating thing, and as a collector I can't help but think it feels like a craze. Where were these fans when other Nintendo collectables were available?
In closing I'd just like to say good luck to everyone out there trying to get a full set. And as for Nintendo, they really need to do a better job at meeting the demand for these items. I shouldn't have to jump through hoops, stay up late refreshing retail sites, and waste gas traveling to countless places in search of these toys. It just makes for a poor fan experience.
Donald Theriault: I honestly thought at this point most people here had given up on Amiibo. I was lucky to have paid off my main Amiibo (Ness, Lucina and Robin) last night and was able to walk in and grab them this morning at the EB Games near my place. Amazingly, there was a Jigglypuff left at the nearby Walmart* that my roommate picked up on the way, but the last one my roommate's brother wanted was Greninja. He got to Toys 'R Us at about 20 minutes to the store opening and the line was already 80 people deep. The store had 90 in stock and they were gone within 45 minutes.
Clearly the thirst is still real, but I wonder how many of these were going to people who wanted them to use (Codename STEAM, $12.99 at EB Games!) and how many of them were scalpers. I guess we'll never really know.
*Walmart got the exclusive on Jigglypuff in Canada because Target kind of had a critical existence failure
Neal Ronaghan: At this point, I think I've completed my regression from "crazy Amiibo collector" to "casual Amiibo collector." I hope that, in due time, I can lower myself down another grade and stop feeling the need to swing by Targets and Best Buys when Amiibo come out.
Wario: Wah wah wah. All we hear about is what you have to say about Amiibo. What about how we, the Amiibo, feel about Amiibo? Enough about you; Now it's about us.
Neal: But our audience isn't Amiibo. It's people who want to collect Amiibo. Or at the very least people who delight in the salty tears of those who want Amiibo.
Charizard: Grrrwwwwooooaaaaarrrrr! Graaaaaaaaawwwwrrrr!
Robin: That's right on the mark, Charizard. Your audience would totally appreciate something from the point of view of a marginalized group. There aren't a lot of us. We're being sold on the black market. It's a rough world for Amiibo.
Lucina: I mean, all I want is to be played with. I have legitimate functionality in a game other than Smash Bros. You can use me as a character in Code Name: S.T.E.A.M. But so many will miss the chance to have Lucina join their party.
Jigglypuff: Jigglypuff jiggglypuff. Puff puff puff. Jigglypuff. Puff puff.
Robin: Dammit Jigglypuff! We know Code Name: S.T.E.A.M. didn't sell well. You don't need to rub it in. Maybe it would have sold well if people could actually buy the four Amiibo that add significant bonus content to the game?
Inkling Girl: You're a kid now. You're a squid now. You're a kid you're a squid you'reakidyou'reasquid.
Wario: Wahhhhh! Shut up, you squid freak!
Robin: The squid kid brings up a good point, though. You might actually be able to find her and the other Splatoon Amiibo in the wild, but if they're hard to find, that's added content in Splatoon that people can't access. With the new Fire Emblem coming to 3DS in Japan next month, I hope you're looking forward to hearing what cool things you can't access if you don't have me, Lucina, Marth, or Ike. It'll likely be awesome.
Lucina: But if people can't use us in game, what do we do? What is the point of us?
Neal: To be on display on a shelf?
Robin: To be a carrot dangled over an audience until the bubble bursts and we're all worth nothing?
Jigglypuff: Jigglypuff jigglypuff?
Wario: To make a buttload of money until the bubble bursts?
Neal: Maybe that's the ticket. Regardless, I spent my entire morning trying to find you out in the wild. I wasted a whole morning because of you.