It's never been easier to get into the Monster Hunter series than with the latest 3DS game.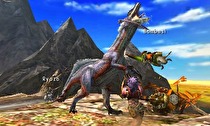 After spending a dozen hours with Monster Hunter 4 Ultimate, the celebrated series finally has its hooks in me. The crazy thing is that, after trying to get sucked into Monster Hunter 3 a few times and failing, I was immediately impressed with the fourth mainline entry. I went from zero to hooked in minutes. Mostly, it's because of how absurdly gentle Monster Hunter 4's opening hours are and how understandable the entire game is for what might just be the first time ever.
More so than past entries, Monster Hunter 4 begins cinematically. You're a hero with no name who comes across a guy who's trying to make sense of some artifact. The story isn't very compelling, as you follow this dude and his growing gang across multiple locations seeking understanding of a MacGuffin, but it provides a nice enough backdrop for the monster-hunting proceedings. The story's most important purpose in the first several hours is to serve as a natural, unfolding tutorial. Different layers keep getting added as you progress, whether it be series firsts like mounting enemies or staples like forging new gear.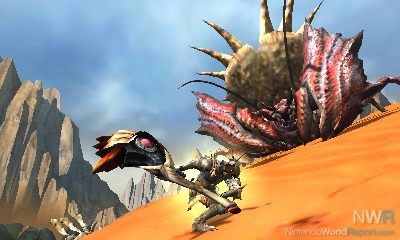 If you have ever been overwhelmed by the specific mechanics of combat or different weapons, there are numerous tutorials, most of them optional. As someone who always kind of stayed with a simple sword whenever I tried playing Monster Hunter, it was awesome being able to actually make sense of the Bagpipes or the new Insect Glaive. While I'm still mostly a close-up melee guy (Dual Blades right now), I love being able to comprehend some of the other weapon tactics. The tutorials in Monster Hunter 4 are easy to understand, with in-game options allowing you to learn even more about different weapons and mechanics.
Monster Hunter 4 Ultimate is the easiest entry in the series to comprehend. If you've ever been on the fence, now is the time to try it. It's exhilarating and rewarding slaying huge monsters. It's fun in online multiplayer (even without voice chat). It's addicting trying to get different weapons and armor sets. Even if you don't intend to get deep into the challenging post-game content (I know I don't), the basic story of Monster Hunter 4 Ultimate is a fine, satisfying experience that, sincerely, anyone can get into.