The foursome is back together with loads of cool games and a sprawling edition of Listener Mail!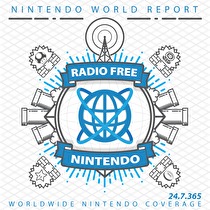 Subscribe via iTunes (Please rate and review, too!)
Hooray, Jon Lindemann is back, and he's got a lot to say! But first, we've got your New Business, and it's a great crop of games this week. Gui opens with Kirby and the Rainbow Curse, which leads to a long dissection of the game's co-op multiplayer. That gives Jon time to prepare for Monster Hunter 4 Ultimate, which he thinks is by far the best game to introduce new players to this uninviting series. James continues his Sony adventures with the Zelda-inspired Ico and Shadow of the Colossus, while Jonny finally gets to blast through Star Fox 64 3D (thanks, Club Nintendo!).
In the Listener Mail segment, we finally get to open up the completionist topic, AND WE AREN'T STOPPING UNTIL IT'S 100% FINISHED. We also pick out the best Donkey Kong Country/Land games from the recent Virtual Console dumping, and we consider the resurgence of Abraham Lincoln as a video game hero. (So, real talk, there's no way we could cover every angle of the first discussion, and we would love to hear your thoughts and suggestions for how to revisit the topic. Please send in your feedback on completing games or anything else from the world of video games!)
RetroActive is officially on for next episode, and by the time you read this, there's only a couple of days at most to get in your thoughts about Pokemon: The Trading Card Game. Hit up that official forum thread ASAP if you want a chance to be heard on the podcast! Oh hey, and you might also want to hear Jonny talk about movies or music with cool people on Crosstawk's Box Office Poison or Discover Music Project, respectively.
This episode was edited by Jonathan Metts and James Jones. The "Men of Leisure" theme song was produced exclusively for Radio Free Nintendo by Perry Burkum. Hear more at Bluffs Custom Music.