Other karts that should appear in the upcoming DLC packs.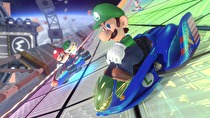 With the recent reveal of the Master Cycle, Link's decked out horse bike, I began thinking of other karts/bikes that should make their way over to race with Mario and friends in the latest iteration of Mario Kart. The idea that some of Nintendo's biggest franchises could share the screen in a game not just focused on fighting is phenomenal. With F-Zero and The Legend of Zelda already having representation in the coming November DLC pack, there are still plenty of unknown karts for November, and the four additional karts as part of May's DLC pack.
Below are some of the ideas I came up with that could help expand Mario Kart's scope to make use of the entire Nintendo arsenal. Let us know in the comments section below of any kart ideas you would like to see.
Gyroid Bike
The villager made his appearance in Super Smash Bros. this year and brought the Gyroid with him in the form of a special attack. In Smash, the villager is able to hop on and ride the Gyroid across a stage. With the villager coming in the May DLC pack, a Gyroid Motorcycle would be an easy inclusion.
Warp Star Kart
Kirby was the star of his own racing game in 2003, and even made an appearance on Rainbow Road in the Smash Bros. Trailer for Rosalina last year. It only makes sense that Nintendo finally combines Kirby's racing past with Nintendo's racing future. The Warp Star, arguably the most famous of Kirby's transportation methods, could be a basic kart that even a koopa kid could use to zip around the track.
Hocotate Freight Bike
If this ship was able to launch Captain Olimar and Louie into orbit each day throughout Pikmin 2, I'm sure it's more than capable of blasting players around a track. The windows on the exterior of the ship could even be used to showcase some of the world's smallest heroes.
Pilotwings Kart
With Nintendo giving some renewed emphasis on this older franchise, it wouldn't hurt to give Pilotwings another push in the form of a DLC kart in Mario Kart. This kart could use its landing gear wheels while propelling its way through the map, and then lift them up and become its own glider for the aerial portions of stages.
Samus's Gunship Kart
The Metroid series hasn't gotten nearly enough love as of late, and a kart in Mario Kart may tide some individuals over. While possibly the least conventional on my list, I think the gunship would be a welcome addition. Plus, it will even blend right in on Rainbow Road as it falls into space after players fall off the track for the 10th time.