Seriously? You think that is the reason it is not coming?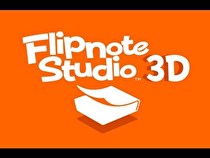 Every time I bring up the issue of Flipnote Studio 3D currently not being released in the west, I always seem to get the same complaint. ''Well, that is fine and good, but without SpotPass...'' Wait a moment, I am going to stop you there. For the people not in the know, services like Letter Box/Swapnote and Flipnote Studio 3D had their SpotPass functionalities disabled due to some terrible people. They used Letter Box to exchange offensive material and a case seems to currently be under review. I am not making light of the situation, as Nintendo did the right thing and secured these borders correctly. The company is responsible for maintaining safety on their platforms and they have certainly done this in the situation.
For me, however, there is a big difference between Letter Box and Flipnote Studio 3D. Where SpotPass is needed a lot in the one instance (Letter Box), it does not matter a lot in the other (Flipnote Studio 3D). Flipnote Studio 3D released last Summer in Japan and I spent ample time with the software, so I feel that I have the right experiences in place to tell the story. Flipnote Studio 3D's Friends Community is the only place where SpotPass was used in a major way, and, if I am being quite frank with you, that portion of the software was not well put together. Like at all.
For starters, the Friends Community had long loading times and was somewhat clunky to use. It was possible to create a temporary community where users could share their created Flipnotes. People could rate the content and partake in small chats with each other, but were only given one paper to draw on. It also had the weird thing where you had to invite people and not everyone was going to see those messages. Out of the several people I have invited to join, I got responses from five at best.
Does that sound important to you? Regardless of your answer, let me give you an idea why it may not matter. The actual online community, which you visit through connecting to Nintendo Network, is alive and kicking. You can see 3D Flipnotes from the community at large, give responses to them, and can even save them to your SD card. It is also possible to discover new Flipnotes through a variety of options that are broadly on display and you can openly discuss content with other users as long as the conversation stays civil. There are also contests every so often and some of the best entries are uploaded to a dedicated YouTube channel, so it's possible to view them without the proper software in place. There is, however, a required fee and users are asked to pay 100 yen every 30 days, nothing too horrible really.
Beyond that, it's possible to share your works locally with another Nintendo 3DS users and allow them to perhaps make some changes. Not interested in that? Well, you could always just export a Flipnote as a video or GIF and throw it on a social network for everyone to see. There are plenty of effective ways that you can share content, so why would the removal of the Friend Community bother you? In the updated version of the Flipnote Studio 3D software, the Friends Community option is even fully removed and the layout has some subtle changes to make it clear what is on display.
Even in its current form, there is a lot of fun to be had with Flipnote Studio 3D and I think Nintendo should still release the software. Europeans and North Americans deserve the awesomeness of the 3D Flipnotes, even if it all feels like a faded dream.