Fire Emblem: Awakening lets you turn off permadeath. Here's why you shouldn't.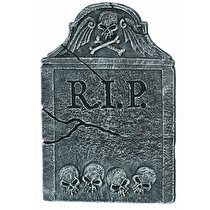 Ricken was always looking for a way to prove himself to the others. The youngest member of the Shepherds, he was often overlooked when preparing for battle. "Stay here, it's too dangerous for you," he would hear time and time again. Still, he was a mage of remarkable skill, and, disobeying direct orders, he made his ability known by sneaking on to the battlefield during a particularly harrowing encounter. His mastery of wind magic turned the tides in the favor of the Shepherds that afternoon, and he was from then on welcomed into battle alongside his countrymen. Though he struggled with the idea of snuffing out the lives of other people, he willed himself forward in order to protect his friends. Ricken was a fiercely loyal, compassionate boy far beyond his years.
And I watched him die.
In my playthrough of Fire Emblem Awakening, I read the last words of a number of characters I had come to know, and each time I would do the same exact thing: close my eyes, tilt my head up toward the ceiling, let out an elongated four-letter word, and turn the 3DS off. Then, I would immediately turn the system back on and attempt to change the fate of the character I had charged into death's grasp. For the first time in North America, players can choose to bypass creating their own similar ritual by turning permadeath off completely. Objectively, I applaud the decision to make Fire Emblem more accessible to those who might be scared off by the thought of losing characters forever. Personally, though, I think Casual Mode fundamentally strips Fire Emblem of its most unique feature: the tragedy and exuberance of choice.
I sat and stared at the stats of an attack and counter attack for minutes, literally minutes, with my thumb hovering over the A Button, completely frozen, countless times during the game. With less than a 100% chance to hit, there was a possibility I would fail to deliver the final blow to a weakened enemy. More worrisome was the chance he had to strike me back and kill me, causing me to perform the same order of actions I detailed earlier. I watched the percentiles display across the screen, immune to my will. I looked over the map, trying to see if other characters might possibly be able to reach the enemy and more assuredly kill him. With no luck, I settled back on those imperfect percentiles. Finally, I closed my eyes, pressed the A Button, and listened. Would I hear the sound of metal slicing through armor on impact, or the fleeting tune of an enemy sidestepping my advance?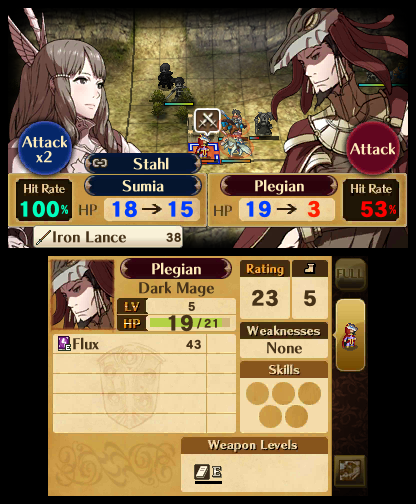 Sure, I was angry if a strategy failed and I had to restart the level, but those lows never matched the absolute joy I felt when a gamble paid off. Each and every time one of my characters executed a low-chance attack or dodged a fatal strike, dread was instantly replaced by elation. I had survived. Eventually, I watched Awakening's credits roll, and was given brief synopses of what each character went on to do after saving the world. Though the quality of each varied, I was able to give every character I met a future.
As great as Casual Mode is for being more welcoming to new players, it removes the weight of the characters' lives from your shoulders, which Fire Emblem so expertly creates. Unlike StarCraft or Command & Conquer, which are built around losing countless identical soldiers, and even XCOM, whose losable troops are merely blank slates that level up, Fire Emblem features a variety of characters with distinct backgrounds and motivations. Moreover, the new relationship system allows you to learn even more about characters as they begin to trust, confide in, and even love each other. The death of a character is felt, not merely on the battlefield, but throughout the game. What conversations are lost entirely when one character fails to return home?
If you aren't trying to protect your heroes while you play Fire Emblem, then why play at all? Sure, the main story is interesting, but Casual Mode eliminates the stories you create for yourself on the battlefield; the moments of uncertainty that miraculously unfold in your favor. And what of the tactical and strategic elements Fire Emblem is known for? Without the penalty of death, what's to stop players from blindly marching their mass of resurrecting units down the map toward the enemy without any pause for concern? Casual Mode is a guided tour through the world of Awakening; you'll see everything, but experience nothing.
If you absolutely can't imagine playing Fire Emblem Awakening with permadeath on, then I'll concede that you should go ahead and use Casual Mode. But, if you are flirting with the possibility of leaving it on, I wholly urge you to do so. The real challenge of Awakening isn't simply beating the game, it's protecting your characters through constant peril; literally shepherding the Shepherds. Awakening is an entirely unique experience when your every choice carries consequence. You are doing yourself a disservice by missing it.