To those watching, Hudson's downfall wasn't a surprise, but it was still a sad occurrence.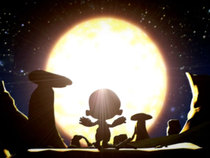 Today, Hudson Entertainment is shutting its doors, with all operations subsumed by Konami. Growing up with a TurboGrafx-16, Hudson has held a special place in gaming for me, and I wanted to reflect a little on their closing.
I will note that I have a tiny bit of history with Hudson. Hudson Entertainment was the first video game company that I had the pleasure of visiting. Back in 2006, I was invited to their beautiful Redwood Shores offices thanks to a Bonk fan site that I created, and I even wrote a feature on Bonk for their website. Over the past few years as press, I've had the pleasure of interacting with some great people, especially John Lee, John Grenier, Amar Gavhane, Mike Pepe, and Morgan Haro. I haven't had any involvement outside of that, so consider this a simplified and incomplete outside perspective of Hudson's downfall.
During that first visit in 2006, then-VP John Lee was very excited to show me the TurboDuo that he had paid good money for on eBay. It was that kind of passion that characterized many in the company, a passion that would ultimately go unrequited. Realize that Hudson Entertainment, founded in 2003, was actually the second iteration of Hudson in the US -- Hudson Soft USA closed in 1996. However, Hudson Entertainment founding president John Grenier had been involved with the company for much longer, and Hudson employees, even those who came much later, were proud of Hudson's character and history, including the fact that Hudson was the first third-party Nintendo developer.
Also during that first visit, Hudson told me about their plans for their Internet portal and their desire to connect with fans and make them a major part of the process. Though it is commonplace now, Hudson Entertainment was one of the first game companies to actively engage their fans on message boards. These interactions were initially limited to Hudson's own site, but spanned into NeoGAF and social networking. Hudson Entertainment seemed to really understand what it was that gamers liked about Hudson and wanted to bring together their fan base and quirky brand to build something more.
A year later, things had become almost silent. At Hudson's holiday party in 2007, I asked then-President John Grenier what had happened to their grand plans. It turned out that Hudson Soft was stuck in the conservative Japanese business mindset and did not appreciate Hudson Entertainment's experiment.
But it was worse than that, and Bomberman: Act Zero demonstrates everything that went wrong. Act Zero was the post-apocalyptic first person iteration of Bomberman, created for Xbox 360. Though the actual gameplay wasn't bad, Act Zero was so ridiculous in concept that it was immediately panned by nearly everyone. Hudson Soft was apparently trying to hit the Western demographic without understanding its true desires. They told Hudson Entertainment about it, who responded that it was a terrible idea. And yet, Hudson Soft developed it anyway, dumping it on Hudson Entertainment with the mandate to sell it. Now, this is certainly not a unique situation in the game industry, but it's a good representation of what was going wrong at Hudson Soft, and Hudson Entertainment was nearly helpless to do anything about it.
Hudson had been running contests on NeoGAF, and so, forced to promote Act Zero, tried to have some fun with it with a PhotoShop contest. The Internet being the Internet, some of the entries were pretty terrible, and the general atmosphere of the thread, as you might expect, was that of mockery of the game. After that, Hudson Entertainment released a self-deprecating video making light of the game. In the end, Corporate in Japan brought down the hammer.
And yet, this disaster and a great deal of negotiation led Hudson Soft to let the US branch build the highly successful Bomberman Live on XBLA, arguably a result of a better understanding of what gamers really wanted. Unfortunately, we never got to see much of that on Wii.
John Grenier had another mission: Get as many TurboGrafx games to Virtual Console possible. There are a bunch of great games for the system for which the current rights-holders are defunct or unknown. Later, Grenier would leave Hudson to found MonkeyPaw Games, which focuses on bringing such classic games back.
Coincidentally, Grenier and Lee left almost simultaneously, which seemed to be the ultimate death knell for the company. As Lee notes, without the ridiculous amount of effort that the two Johns put in dealing with Hudson Soft in Japan, Hudson Entertainment would never have been able to do any development of note. I can't blame Hudson Entertainment for the end result -- it's effort that should never have been required. In his farewell blog, Morgan Haro complained of the isolation between the US offices and the development teams in Japan. Hudson's strict control of the US subsidiary and denial of their creative input led to the situation today.
How did Hudson end up like this? After a pretty successful 16-bit era, Hudson faded into the background, and by the 2000s, aside from a few franchises such as Bomberman and Mario Party, was focused mostly on mobile games. The actual situation was more complicated, as John Lee details. After the Japanese financial crisis in 2000, Hudson, a traditional, privately owned business, was forced to go public to ensure cash flow for game development. Konami ended up with controlling interest by 2005. On the one hand, the investment in Hudson by Konami (along with its infrastructure) seemed to be just what they needed to get really going again on the console front. The problem was that the new corporate culture led to the departure of the founders as well as many of its creative developers.
Pushed by a desire to satisfy shareholders, Hudson tried to take the easy way out. Piggybacking off of the success Wii Sports and Mario Party, Hudson's releases were dominated by mini-game collections and rehashes. They latched onto the unexpected success of Deca Sports without really understanding what makes games great.
Hudson fans wanted to support the company in the past few years, but it was painful when they weren't turning out much innovative or compelling (a few games like Kororinpa and Lost in Shadow excepted). And their biggest fans, the Hudson Entertainment employees, were stuck peddling shovelware through their once-respected brand.
In the end, Hudson Entertainment got the short end of the stick. Despite holding the pride coming from the history of the brand, they were stuck marketing sub-par games. It's a shame that they weren't able to keep strong development going after departure of their key executives.
One thing that worries me regarding Konami's acquisition, from a Nintendo fan's perspective, is that Hudson was a big supporter of Nintendo platforms, whereas Konami's support has dwindled in recent years. Recently, Famitsu scared everyone by declaring all Hudson games cancelled, including upcoming 3DS editions of Bonk and Bomberman. Konami then said that they have not yet decided which games will continue development, but I hope they realize what it was that made Hudson great.
Bonk: Brink of Extinction, what was supposed to be Bonk's glorious return to consoles, was silently cancelled for WiiWare. Bonk has been fighting a battle for years to be re-introduced to the gaming world (a cell phone game and a Japan-only remake hardly count). I'm not sure why Hudson Soft abandoned the mascot. Brink of Extinction was championed by Hudson Entertainment and was under development by Pi Studios, a Texas-based company, and seemed to be complete, so perhaps there is still hope. However, Hudson removed the Japanese website for the game last week.
Like a slow-motion train wreck, Hudson's death was long expected, but that doesn't make us any less sad. The NWR staff would like to wish the employees of Hudson Entertainment luck in finding new positions, and may your future jobs not be hindered by corporate myopia.
I leave you with some footage of the Xbox 360 version of Bonk: Brink of Extinction from last year's E3. We can only hope that it will still come out, and soon.