Did you miss the Nintendo Direct? We've got all the announcements right here.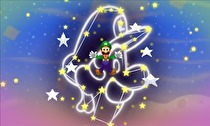 Wow. Now that was a pretty awesome Nintendo Direct presentation, at least for 3DS owners. Let's recap, shall we?
Mario & Luigi: Dream Team kicked off proceedings, with an announced release date of August 11 for North America, July 12 in Europe, and July 18 in Japan. We also got some light story details, with Peach being kidnapped and taken into Luigi's dreams. That sounds creepy and "Inception"-like, but it seems to be an oddly natural progression from Bowser's Inside Story.
Next up was Mario Golf: World Tour, which is set for a nebulous summer release. The Mario gang's next golf outing will have online and even asynchronous tournaments. It'll also have communities similar to Mario Kart 7 where you can set all sorts of rules. Luigi-only is the way to go in the Year of Luigi, naturally.
The first big game reveal of the show was Mario Party 3DS, due out this winter. It'll have seven game boards and seems to be more of a return to form for the series after Mario Party 9's tweaks. 81 new mini-games will be included, taking advantage of the 3DS features.
While this was primarily a 3DS-focused Direct, the Wii U still got some love, as the next featured item was New Super Luigi U, the substantial 82-level DLC pack for New Super Mario Bros. U. Coming this summer, NSLU will star Luigi, who will jump higher and be quite a bit more slippery than Mario.
We already knew most of what Donkey Kong Country Returns 3D has to offer when it comes out May 24, but we got to hear it all explained by Satoru Iwata. The easier mode adds an extra heart and other new items that makes it optimized for portables, although the original mode will still be included. A whole new world, containing eight levels, is being added to the end of the game as well.
The first show-stopper, for me at least, was Yoshi's Island 3DS, a new game in the series. It combines the watercolor style of the SNES original with some 3D character models for a really nice effect. More information on the game will come later, and as of now, it wasn't given a release window. To me, that seems to insinuate this is farther off, likely coming in 2014.
Once again, in news we already knew, Mario and Donkey Kong: Minis on the Move is launching on the eShop on May 9. It has 180 levels spread out over four modes.
Nintendo continued to sneak in tidbits about the Wii U, with information about the forthcoming system update, which arrives next week. The biggest part of it is improving the Wii U menu's load times, though it will also add a whole litany of other improvements. These include enabling the use of two USB drives, downloading and installing games when the system is off or you are playing another games, and letting you boot right into Wii Mode with the press of a button.
On top of that, the Wii U Virtual Console will be coming a day after the update. At first, only NES and SNES games will be available, but Game Boy Advance and Nintendo 64 games are in the service's future. Nintendo showed a video of upcoming releases that include Donkey Kong, Excitebike, Super Mario World, Mario Bros., Super Mario Bros. 2, Ice Climber, Kirby Supertsar, Kid Icarus, and more. Additionally, a demo for Wii U Panorama View is due out next week, with extra video tours available for $2 each.
And the Wii U software details kept on coming, as Pikmin 3 received a firm release date in North America: August 4. We learned of the new Winged Pikmin type, with further details about the game expected soon.
The second gigantic megaton show-stopper, in my view, was the revelation that the elusive Earthbound is coming to Wii U Virtual Console in North America and Europe later this year.
The interrupting Wii U train kept going, as Game & Wario was given a release date of June 23, and Monster Hunter 3 Ultimate's Off-TV Play update was mentioned.
Meanwhile, back on the 3DS front, the soon-to-be-released Lego City Undercover: The Chase Begins was highlighted, and it was confirmed that an Animal Crossing: New Leaf 3DS XL bundle is arriving in North America alongside the game's June 9 release, while the pair of Zelda: Oracle games are coming to the 3DS Virtual Console on May 30.
But that's not all! Some third-party games were shown, too. Bravely Default, an RPG from Square Enix, and Professor Layton and the Azran Legacy are both coming to North America in 2014. Europe gets Layton this year! Level-5's Guild02 series of eShop games are also making the jump to the West. Those three titles are The Starship Damrey, Attack of the Friday Monsters!: A Tokyo Tale, and Bugs vs. Tanks.
It didn't stop there. Shin Megami Tensei IV, already announced for North America, is coming to Europe, which is rad, and it's also getting a ridiculous bundle including a soundtrack, strategy guide, and artbook.
Even after all that, though, the grand finale was very much worth the wait. This year's big holiday release for 3DS is very likely going to be a follow-up to The Legend of Zelda: Link to the Past, which features an art style that merges the classic Link to the Past style with modern Link.