Man, I miss the StarTropics games...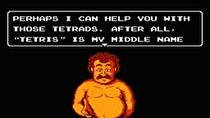 Being of the slightly younger generation, I don't remember getting many brand new NES games. There is one that I clearly remember getting, though. That game? Zoda's Revenge: StarTropics II. A toy outlet store had about 15 sealed copies of the game at a deep discount around 1996, and I happily purchased one. Having loved the original game, I was stoked for the sequel.
While, honestly, I think the second game takes a number of steps back (I much prefer the grid-based structure of the dungeons in the original), the time-traveling sequel was still a great follow-up. Instead of being limited to just C Island, Mike Jones, the teen southpaw from Seattle, took the Oxford Wonder World book and tracked down series villain Zoda throughout time.
Zoda's Revenge presented an inaccurate but colorful view of history, something that worked well in the often off-kilter setting. Cleopatra is a ruler who wishes to help you on your quest to retrieve Tetrads, but she's distracted by her increasing hunger for pepperoni pizza that a shameful delivery man has been late with. In turn-of-the-century London, you wind up talking to Sherlock Holmes, a fictional character who doesn't even exist. It's glorious in a silly way, and the game manages to keep its tongue firmly planted in cheek for the entire experience without diluting the fun gameplay.
Just honestly, it bugs me so much that a third StarTropics doesn't exist. I know why it doesn't exist, since StarTropics was a series made to cater towards North America, and in that respect, it didn't do well enough to get more than the two late NES entries, the latter of which didn't come out until 1994. Super Metroid came out around the same time as Zoda's Revenge, a totally bonkers fact if you think about it.
Both StarTropics games were directed by Genyo Takeda, who is a part of the Nintendo Integrated Research and Development (IRD), which recently merged with Nintendo Research Engineered and Development (RED). Takeda's role has almost always been focused on developing and improving hardware, having been instrumental with the development of the Wii, the save battery in NES cartridges, and the Nintendo 64 controller. The last games Takeda directed were Zoda's Revenge and Super Punch-Out!!., though he worked as a producer for a few Nintendo 64 games, including Pilotwings 64 and Pokémon Puzzle League. Outside of a stint as a supervisor for the Punch-Out!! game on Wii, Takeda hasn't done much directly with game production in a long time. It's very likely any dreams of more StarTropics games died when this dude worked on the 64DD.
Of course, my dream is that Takeda, impressed by the pluck of Punch-Out!! Wii and Luigi's Mansion: Dark Moon developer Next Level Games, has started working on a new StarTropics game with the Canadian studio. Is that likely? Not at all, but a boy can dream...