The 3DS is filled with awesomeness. Also, a hopeful Wii U thought for once.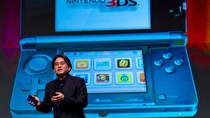 For nearly two weeks, my 3DS has been just about the only system I've touched. On the strength of Fire Emblem: Awakening and Brain Age: Concentration Training alone, I'd have more than enough content to last me the rest of the month and beyond. But then Virtual Console games also occasionally release (less often than I'd like) and the 3DS eShop gets at least one title a week and around two or three quality releases a month.
We're closing in on two years since the 3DS launched, and the system is already a contender for one of my favorite systems ever. The breadth of content is what wins it over for me. The 3DS loops in all of the 3DS and DS lineups, along with a respectable amount of classic games on Virtual Console. I can almost play half of the Zelda franchise on my 3DS, and that's really cool.
I could drone on and on about how I'm super stoked for Luigi's Mansion: Dark Moon, how I'm curious about Castlevania: Lords of Shadow - Mirror of Fate, or how the potential summer of Mario Golf: World Tour, Donkey Kong Country Returns 3D, and Mario & Luigi: Dream Team could rock my face off. Instead, I'll just remind those decrying the Wii U right now that, three months after launch, the 3DS was just about to get the Ocarina of Time remake, following up its launch combo of Nintendogs+Cats, Steel Diver, and Pilotwings Resort, three games nowhere near the caliber of New Super Mario Bros. U or Nintendo Land. I'm not saying eat your Wii U shit sandwich and love it; just remember that a system that has stupid amounts of games and content was once as piss-poor as the Wii U is right now. Give it a few months when you're assaulted by Lego City Undercover, Monster Hunter 3 Ultimate, Need for Speed: Most Wanted, Game & Wario, Pikmin 3, The Wonderful 101, and Wii Fit U in March to June (or more likely spread out over the summer).
P.S. - If you own a PlayStation 3 or a Vita, stop being a jerk and buy Sly Cooper: Thieves in Time. It's pretty fantastic.