I might not get all these right away, but damn it, I kind of want to!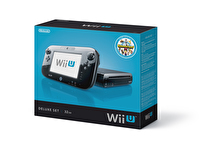 As I type this, I'm within 24 hours of getting my Wii U. I believe I have gone past mere excitement and hit total and complete fever pitch. I'm treating this like Christmas, but not like, Christmas when I'm a teenager. No, this is like "5-year-old Neal about to pee his pants at the prospect of a Game Boy with Super Mario Land 2 at Christmas" excitement.
So, it seemed apt to make a list of games I'm eyeing, along with the reason why I'm eyeing them.